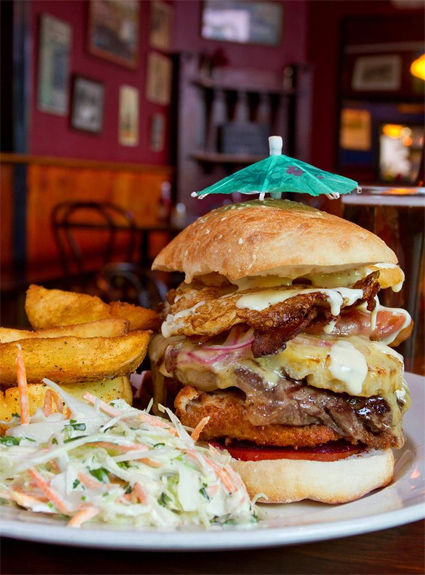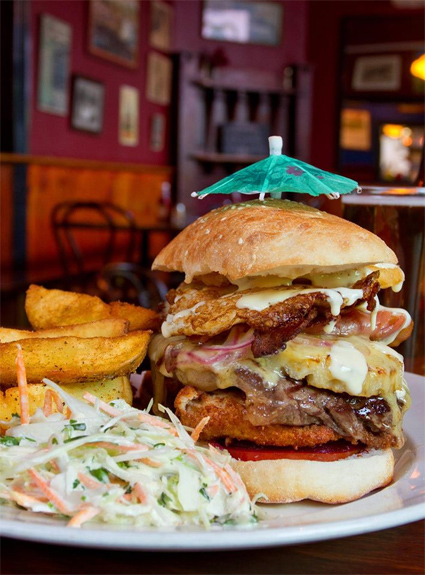 As the standard of pub grub continues to rise around the country, one Melbourne pub has hit back with the "bogan burger".
Featuring a steak, atop a chicken schnitzel, along with bacon, an egg, beetroot, tomato, pineapple, cheese and a potato cake on a Turkish bread bun, the Napier Hotel's supersize option comes with a side of wedges and salad.
The whopping meal is rumoured to contain around 7,000 calories.
In reply to a question on endorsement from with the Heart Foundation, publican Guy Lawson said on 3AW Drive "I think it would get a cross".
But diet-recommended or not, the $25 burger is getting a lot of hungry interest, with around six a day served up at the pub. It makes for a colourful focal point for the tasteful Fitzroy pub, which also serves plenty of quality fine-dining options, such as quinoa salads and peppered roo fillets.
The pub has been a stalwart of the Melbourne suburbs since 1866, and is described by a wag historian on its website as "relatively unchanged since your granny was a girl". Lawson – well known for his "seemingly endless variety of Hawaiian shirts" is unperturbed by any criticism of the monster burger.
"We've covered every major food group," said Lawson.