The Waltons have put up their handsome Neath Hotel near Cessnock, looking to traverse the wide brown land and perhaps rescue outback beauties.
Michelle and Brett Walton began in the pub game in the early 2000s, taking on a 3-year lease. About halfway in they learned of the sale of the nearby Neath Hotel, which they'd always admired, and in 2004 took the plunge on their first freehold going concern.
The couple split the workload, while working to restore their new three-storey red brick Victorian pub.
"I ran it for a year and half while my husband finished the lease on our other pub," recalls Michelle. "There was a lot to do … it needed a lot of loving."
The Neath offers a public bar, commercial kitchen and restaurant, TAB, five EGMs, a large all-weather beer garden, and 28 pub rooms plus a manager's residence, on a commanding 1,282sqm lot.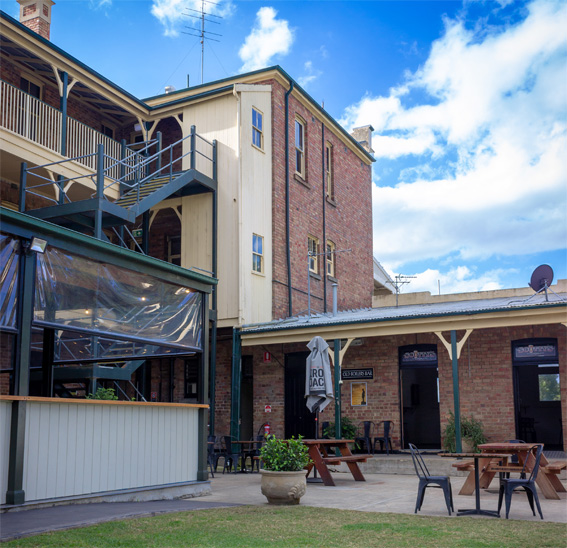 In 2012 the Waltons sold a lease on the pub, looking to take a step back for a while. It wasn't long before they "started to miss it" and took on another lease, only to have their tenants at the Neath fail and be forced to resume operations there.
This time they are looking to sell the business and title, having dreamed of seeing the outback before starting in pubs and now ready to scan new horizons. But still unlikely to settle down. 
"We're looking forward to a bit of adventure," says Michelle. "We want to slow down a bit. We've got a caravan and would like to do a bit of travelling. Mind you, when we travel, we want to do holiday relief for hotels!"
Having lived and breathed the Neath into a family-oriented 'country' pub within easy reach of Newcastle and the Hunter Valley, Michelle believes it would be suited to "pub people" that are looking to the friendly lifestyle.
"It definitely would appeal to a husband and wife, it's a very social hotel. It is a lifestyle."
Seemingly natural-born-publicans, Michelle says they weren't always that way, but now can't deny it may yet draw them back again.
"We obviously do love it, and the social aspect of it.
"We say 'we've done our years' but everyone thinks we will buy another one, so watch this space."
The Waltons have engaged HTL Property's Xavier Plunkett to market the Hotel, located in the strong Hunter Valley mining and tourism region of Cessnock – a high-performing gaming LGA. Marketing material reports moderate hardware, no smoking solution, and no TITO or CRT, and rank of 1,068 on the L&G list of NSW hotels.
Weekly trading sees close to $24k across multiple revenue sources, with gaming accounting for just 13 per cent, and accommodation 11 per cent. Figures suggest sale price in the mid-$2 millions.
"[Further] upside will come from driving the accommodation aspect of the business by capitalising on the 28 well-appointed pub rooms," suggests Plunkett.
"Hunter valley wine country tours and marquee concerts in the region both present accommodation-focused opportunities."
The Neath Hotel FGC is being sold via Private Treaty.