Tapping into consumer insights, Diageo has begun trialling draught options of some of its well-known spirits brands, and Sydney hotels are enjoying the success of the pioneering Pimms on Tap.
The global drinks company pays close attention to the ever-evolving desires of consumers, and how this affects both choices of alcoholic beverage and occasion.
As first in a planned series still in R&D, selected pubs around Sydney have been pouring pre-mixed Pimms out of a dedicated font, dispensing a blend of the iconic aperitif with lemonade and ginger ale.
The newness of the offering necessitated strong in-venue marketing that included branded jugs and paper cups, swizzle sticks and red and white straws. The jugs retailed for $25, offering around four drinks in the Pimms cups, which singly were $9 each. Some of the trial venues facilitated activations including a Pimms garden.
The Commodore in McMahons Point was offering Pimms on Tap in the lead-up to Christmas, and Graham Campion says execution of the new concept was key in the pub being the top-seller of the new draught for a couple of months.
"A lot of people haven't seen a product like that on tap before. It's quite big in the States, draught cocktails, so I think it was inevitable it was going to come here."
The ritual of making drinks at the Pimms station, filling jugs to the marker line before adding ice and garnishes, proved a very successful promotion, particularly during the warm festive season.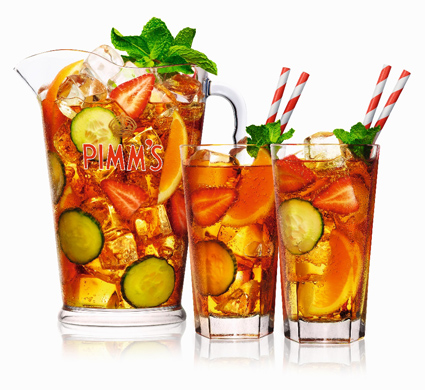 Campion says women in particular "really took to it and enjoyed it" and the branded jugs and cups, pouring refreshing drinks with colourful adornments, proved alluring for adjacent tables of drinkers.
"It's always about the theatre," he adds. "People would see it and try it.
"As far as I'm concerned it was really successful. I'd keep it on."
Chris Cheung's Coogee Bay Hotel also hosted a Pimms activation, the beachside bar embracing it as a summertime must and describing the reaction in the months leading to Christmas as "exceptional".
"We've set it up in our little outdoor pop-up bar," says CBH GM Mitch Rose. "It takes the pressure off the main bar, but also gave a female and male option: a bucket of Coronas, or a jug of Pimms."
CBH similarly grew a Pimms garden, incorporating deck chairs and grass boxes and a very popular swinging chair.
Rose reports around 80-85 per cent of orders took up the jug option, and says he was very pleased with the activation and plans keeping the draught on.
"Throughout the winter months when we do our wine affairs and our craft beer things we might move it, but it will always be an option, whether in that bar or another bar.
"It was a major success, not only did everyone enjoy it and it taste good, it was well received on all levels."
Diageo describes the Pimms draught as "one of our most exciting innovations" and is reportedly working on subsequent recipes, including the espresso martini made with Kettle One vodka and driven by nitrogen, which will be going into CBH in the near future.
The company says its research has found increasing focus on f&b experiences on-premise, including enjoying products with a lower ABV. It is "working closely with venue partners" to get the mix right, to ensure consistent quality and end result come with the improved speed of service.
"We're seeing changes in the way Australians are socialising in the on-premise space and we've also seen an evolution in the venues themselves with low-tempo, daytime occasions driving trends," says Drewe Letchford, Diageo head of strategy & innovation.
"Pimm's on Tap, a well-known and loved brand, is the perfect accompaniment for these on-premise occasions."