The innovative Boathouse Group has unveiled its latest pride and joy – the reinvented Boathouse Patonga, in the former Patonga Beach Hotel.
Established 2008 by Pip and Andrew Goldsmith, the Boathouse Group began with a café in Palm Beach, and has grown to count eight venues, employing over 450 staff.
In 2017 the Goldsmiths acquired the Patonga pub, looking to expand their waterfront locations with a more versatile premise, and their first location on the Central Coast.
Patonga is an idyllic coastal town, flanked by the Hawkesbury River and Broken Bay. It is a 90-minute drive from the Sydney CBD, or 30-minute ferry trip from Palm Beach, at the tip of the Northern Beaches.
Closing the pub in May this year for a major overhaul totalling $5 million, it has been refitted throughout, including new kitchen and bathroom configurations, and a bright new outlook to complement its holiday-style location, looking south across Pittwater. One, two and three-bedroom waterside apartments will come online soon.
"It sort of feels like a whole new venue," says Andrew Goldsmith. "It feels like it should, next to the water – resort-style – but it still feels like Patonga … a nice mix between resort and sleepy fishing village."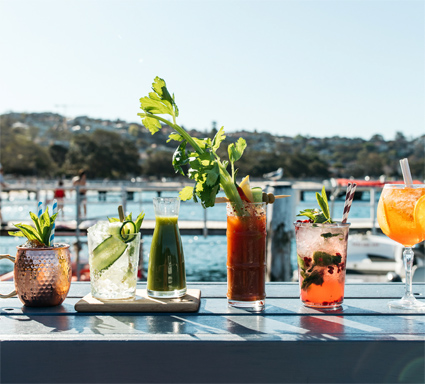 The makeover included the slightly controversial removal of the famed America's Cup bar that had haunted the establishment for decades. In the hope of raising money for the local Fire Department, the bar was auctioned off to a local home-owner that mostly resides in the US. The exercise generated $3.5k for the firies, but also some murmurs of resident unrest.
Describing the pub as a great location but with a small local catchment, Goldsmith said it was important to create something of a destination and hopefully drawcard meeting spot for the area. This sees them offering breakfast, lunch and dinner seven days a week, hoping to attract Northern Beaches expeditions and early-morning cycling gangs seeking coffee.
"We really needed to spend the money to give us the ability to make a good product in the food and beverage offer; we need people to come there more regularly.
"I was sort of nervous that after six months being closed everyone might have forgotten about it. I was most nervous about the locals being happy with it, but they've been really positive, which is great."
Following a soft launch on Monday where the Boathouse team came to test the waters, this week the new-look Boathouse Patonga is negotiating the ropes.
"I'm pretty happy we got a bit of a grey week to open with, so we can iron out all the creases, 'cause it's been a bit busier than what we thought.
"It's only just beginning. Hopefully we can keep improving on it, lots of tweaking to do as we go, but it will all come together."