Oscars Hotels has launched huge new venue The Port in Darling Harbour, bringing a lockout-free Riviera experience to Sydney.
Located on the western side of the iconic Darling Harbour foreshore, in the former home of Margaritaville, the all-new pub sports a "chic, French coastal" vibe, with exquisite water and city views and Harbour-side cabanas offering patrons a summer oasis and "relaxed punch to the senses".
The Port set sail quietly last Friday, in time for the long weekend, but will be throwing a big launch party Thursday, 13 October.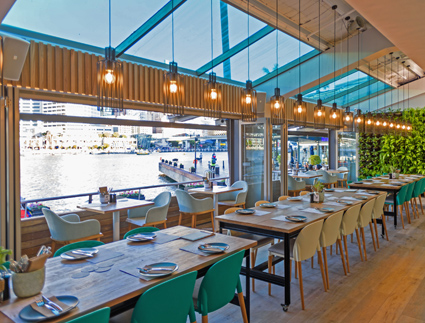 The interior design, by architect Lainey Richardson, matches polished woodwork and nautical colours with blued glass and exposed lighting, and boasts an impressive vertical garden on the southern wall. Richardson worked with Oscars on The Annandale, and with Ray Reilly at The Henson.
For a "little bit of lux" patrons can reserve their own cabana, with bottle service by a private host and a chef's selection of canapes. After dark on Thursday through Sunday nights, DJs and live performers will keep The Port rocking.
The menu is a curated selection of on-trend offerings and share plates, such as Pork Short Ribs and the Double Royale cheeseburger, and of course a generous serve of ocean-based items, including the Hiramasa Kingfish Sashimi and Seafood Sampling Boards.
To drink, patrons can order wines by the bottle or glass, draught and packaged craft beers and share jugs, or select from the list of bespoke cocktails, such as the Smoked Sea Salt Margarita (Patron Silver, lime juice, pineapple, agave nectar, smoked sea salt and a pinch of paprika – $16).
There are also pastries and barista-made coffee by Will & Co. available from 10am every morning.
Open 10am 'til late every night, The Port has capacity for up to 1,050 people, and is outside Sydney's dreaded party-killer lockout zone.
"A ship at harbour is safe, but a ship at Port is home."