Marvin "Muscles" O'Brien has put his hard-fought freehold pub in Wowan to market after an outpouring of community support brought decision to keep its historic doors open.
A former long-haul truckie and mine worker, O'Brien has laid claim to the 'muscles' moniker since he was a scrawny teenager putting in a hard day's work.
Around five years' ago he and his wife Kerry took on the dream of running a country pub, settling on the Commercial Hotel
Wowan is a town of a couple of hundred souls, inland from Gladstone, around 630km north-west of Brisbane, on the A5 Highway. Kerry works as a school principle in the area.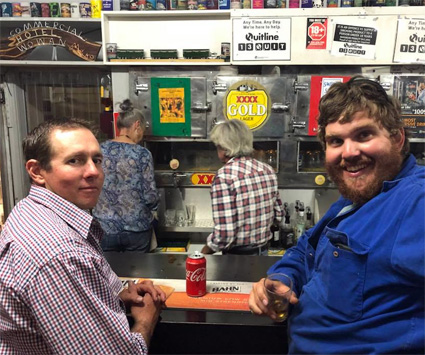 Muscles says the building is an "old Queenslander" with a long public bar, dining area, fireplace, pool table, courtyard area and outdoor big screen, and five pub-style accommodation rooms of assorted size, all with reverse-cycle air-conditioning.
But Muscles is not getting any younger, and rising power prices in the north-Queensland region, coupled with those of licensing and insurance, recently brought the business to the brink. The accommodation and kitchen services were suspended to cut costs.
Friends and loyal patrons rallied together to show their support and the O'Briens determined they would hold on and keep trading for as long as they can, in the hope of finding a buyer.
Muscles is looking to back off from working every day and says it's hard on his wife coming to the pub after her day job, but believes partners could make it work.
"Somebody with a bit of go," he suggests. "I've been here five years, and getting a bit weary. I'm getting up near 70. A couple could do it, where I'm trying to do most of it myself and she does the kitchen of a night time."
The Commercial is the only pub for 50 kilometres, and the classic local would likely benefit from promotion to the northward tourists using the route, passing its front door.
Mrs O'Brien, who keeps the books, reports the freehold going concern valued at $320k, or they will consider divesting the lease on favourable terms.
Meanwhile, Muscles says he is putting up signs in the bar alerting people it is for sale, and continues to pull beers and eye retirement.
"If I ever get there," he chuckles.
Commercial Hotel
1 Pheasant Creek Rd, Wowan
07 4937 1377