For the first time in three years, the AHA NSW Awards for Excellence made a triumphant return on Monday night, celebrating the state's best across a record 46 categories.
Pandemic-delayed since 2019, the no-expense-spared event ushed in 1,500 hospitality industry, community and political leaders to The Cutaway, at Barangaroo.
Judged by an independent panel, the acknowledgements recognised performances throughout the state, although dominated as always by high-profile Sydney venues.
Best Metropolitan Local was won by Glenn Piper's Harbord Hotel, the Campion family's Longueville Hotel took Best Innovative Refurbishment, while Arthur Laundy's new Log Cabin Hotel was named Best Metropolitan Re-development.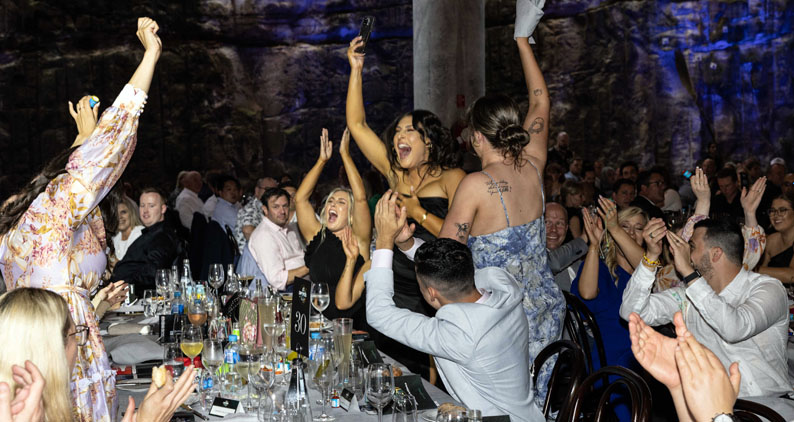 And relative newcomer, the two-year-old Duke of Dural in Sydney's Hills District, was dubbed the best hotel in Sydney, taking top gong – Metropolitan Hotel of the Year.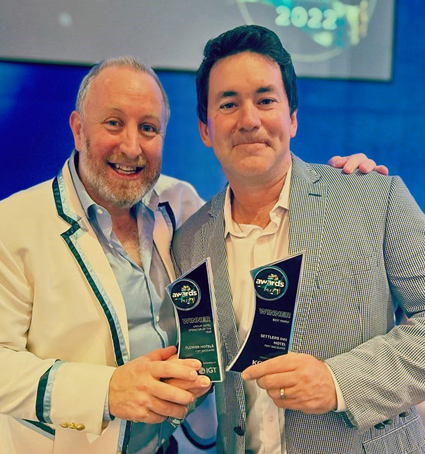 Individual Hotel Operator of the Year was awarded to Simon Barbato, keeper of the Woollahra Hotel.
And moving up from being Individual Operator in 2017, now employing 250 staff across 10 venues, Alistair Flowers' Flower Hotels became the first ever regional group to take the hotly-contested Group Hotel Operator of the Year.
"It's very humbling, considering the calibre of the operators here in NSW," Flower told PubTIC.
Veteran hotelier and beloved matriarch of the Royal Oak Balmain, Maureen Thornett, was welcomed as the 2022 Hall of Fame recipient.
"After missing this event for the past few years due to the pandemic, there has never been a better time to come together, celebrate and recognise the resilience of our incredible industry," said AHA NSW CEO, John Whelan.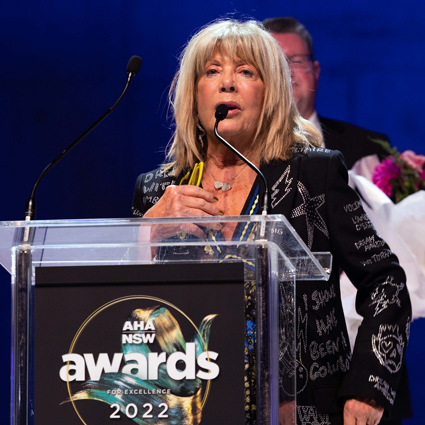 "This stand-out list of winners is proof that despite the adversity and impacts of COVID-19 our pubs are still some of the best in the world. I congratulate them all."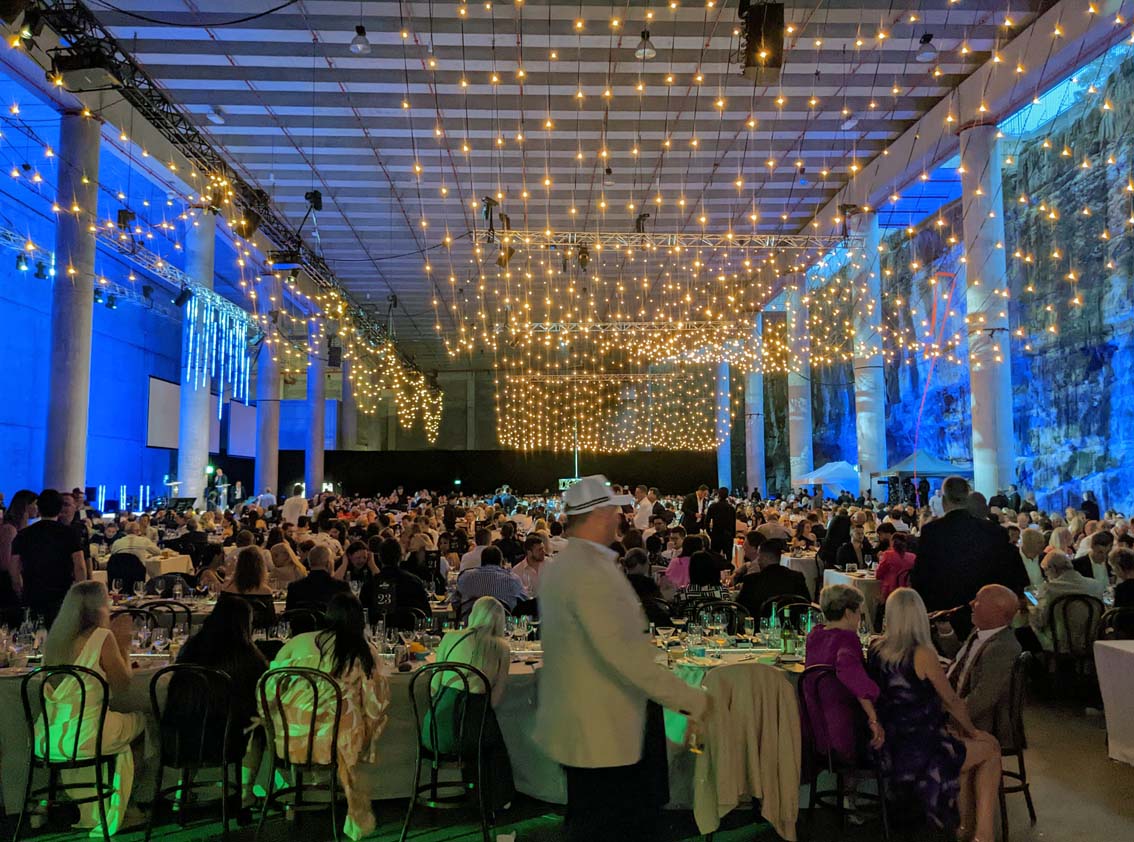 FULL LIST OF WINNERS
EXPERIENCE AWARDS
BEST FAMILY FRIENDLY
WINNER: Camden Valley Inn, Cawdor
BEST LIVE MUSIC VENUE
JOINT WINNERS: Beach Hotel, Byron Bay & Huntlee Tavern, Branxton
HEART OF THE COMMUNITY
JOINT WINNERS: Coogee Bay Hotel, Coogee & Redcape Hotel Group, Cremorne
BEST REGIONAL LOCAL
WINNER: The Illawarra, Wollongong
BEST METROPOLITAN LOCAL
WINNER: Harbord Hotel, Freshwater
BEST BUSH PUB
WINNER: Peel Inn Hotel, Nundle
BEST OUTDOOR EXPERIENCE (INCLUDING ROOFTOP BARS)
WINNER: Hotel Brunswick, Brunswick Heads
BEST LATE-NIGHT VENUE
WINNER: The Marlborough Hotel, Newtown
BEST SPORTING ENTERTAINMENT VENUE
WINNER: Waterfront Tavern, Shell Cove
BEST REGIONAL WAGERING VENUE
WINNER: The Windsor Castle Hotel, East Maitland
BEST METROPOLITAN WAGERING VENUE
WINNER: Hotel Steyne, Manly
BEST RETAIL LIQUOR OUTLET
WINNER: The Prince of Merewether, Merewether
BEST DRAUGHT BEER QUALITY
WINNER: Oriental Hotel Mudgee, Mudgee
HIGHLY COMMENDED: Atomic Beer Project, Redfern
BEST WINE LIST
WINNER: Sarino's, Mullane's Hotel, Norwest
BEST COCKTAIL LIST
WINNER: Public House Albury, Albury
HIGHLY COMMENDED: Topikós, Bondi Beach
BEST REGIONAL GAMING VENUE
WINNER: The Gem Hotel, Griffith
BEST METROPOLITAN GAMING VENUE
WINNER: Fairfield Hotel, Fairfield
HIGHLY COMMENDED: Australian Hotel and Brewery, Rouse Hill
BEST MARKETING ACTIVITY
WINNER: Towradgi Beach Hotel, Towradgi
HIGHLY COMMENDED: Collie Hotel, Collie
BEST UNIQUE BAR EXPERIENCE (INCLUDING SMALL, COCKTAIL, LOUNGE OR THEMED BARS)
WINNER: Sarino's, Mullane's Hotel, Norwest
PROPERTY AWARDS
BEST INNOVATIVE REFURBISHMENT
WINNER: Longueville Hotel, Lane Cove
BEST REGIONAL REDEVELOPMENT
WINNER: Hotel Gosford, Gosford
HIGHLY COMMENDED: The Gem Hotel, Griffith
BEST METROPOLITAN REDEVELOPMENT
WINNER: The Log Cabin Hotel, Penrith
BEST TRADITIONAL PUB ACCOMMODATION (UNDER $130)
WINNER: Grand Hotel Wyong, Wyong
BEST DELUXE PUB ACCOMMODATION ($130 AND OVER)
WINNER: Bermagui Beach Hotel, Bermagui
FOOD AWARDS
BEST STEAK
JOINT WINNERS: Royal Hotel Randwick, Randwick & The Nelson Hotel, Bondi Junction
BEST PARMI
WINNER: Settlers Inn Hotel, Port Macquarie
BEST STEAK SANDWICH
WINNER: The Nags Hotel, Adamstown
HIGHLY COMMENDED: The Entrance, The Entrance6
BEST BURGER
WINNER: The Prince of Merewether, Merewether
BEST CHEAP EAT MEAL (UNDER $15)
WINNER: Carousel Inn, Rooty Hill
BEST REGIONAL CASUAL DINING (NORTHERN)
WINNER: Warners at the Bay, Warners Bay
BEST REGIONAL CASUAL DINING (SOUTHERN)
WINNER: Camden Valley Inn, Cawdor
BEST REGIONAL CASUAL DINING (WESTERN)
WINNER: Robin Hood Hotel Orange, Orange
BEST METROPOLITAN CASUAL DINING (CBD & EASTERN)
WINNER: Newtown Hotel, Newtown
BEST METROPOLITAN CASUAL DINING (NORTHERN)
WINNER: Forest Hotel, Frenchs Forest
HIGHLY COMMENDED: The Buena Vista Hotel, Mosman
BEST METROPOLITAN CASUAL DINING (SOUTHERN)
WINNER: Oatley Hotel, Oatley
BEST METROPOLITAN CASUAL DINING (WESTERN)
WINNER: Hunters Hill Hotel, Hunters Hill
BEST RESTAURANT
WINNER: Menzies Bar & Bistro, Shell House Sydney
PEOPLE AWARDS
INDUSTRY RISING STAR
WINNER: Sharni Aird, Verandah Bar Sydney
HIGHLY COMMENDED: Edie Rose Bannerman, Shell House Sydney
EMPLOYEE EXCELLENCE IN SERVICE
WINNER: Jon Trouillet, The Buena Vista Hotel, Mosman
REGIONAL CHEF OF THE YEAR
WINNER: Anthony Fullerton, The Gem Hotel, Griffith
METROPOLITAN CHEF OF THE YEAR
WINNER: Nicholas Liglet, Harbour View Hotel, Dawes Point
HALL OF FAME INDUCTEE
Maureen Thornett
OVERALL HOTEL AWARDS
INDIVIDUAL HOTEL OPERATOR OF THE YEAR
WINNER: Simon Barbato, Woollahra Hotel, Woollahra
GROUP HOTEL OPERATOR OF THE YEAR
WINNER: Flower Hotels Port Macquarie
REGIONAL HOTEL OF THE YEAR
WINNER: The Gem Hotel, Griffith
HIGHLY COMMENDED: The Illawarra, Wollongong
METROPOLITAN HOTEL OF THE YEAR
WINNER: The Duke of Dural, Dural
PEOPLE'S CHOICE AWARD
WINNER: Collie Hotel, Collie