Career trainer Joe Pav has launched HospitalityTV, offering hotels a cost-effective in-house training solution that builds business and reduces staff education costs.
The Fair Work Ombudsman (FWO) recently ruled* that employees made to do training must be paid for their time, awarding $3.5m to staff made to do online training outside of hours.
Joe Pav has taught hospitality staff for years, and amassed a "huge library" of content intended to educate workers in improving their operational skills and knowledge.
The HospitalityTV product consists of an HDMI stick, which can plug into the back of any modern TV or monitor without power or cabling. It is loaded with looping videos of 15-20 screens, each shown for 15 seconds.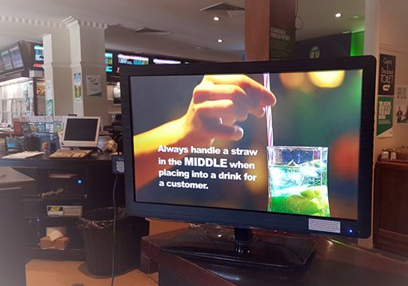 Each screen features a clear but poignant lesson for bar staff. A monitor set up facing the backbar can continually show the videos, providing an unobtrusive message that is repeated, to aid retention.
The low-impact message screens can be actively viewed during downtime, or for a period at the start of shift, or subliminally as staff go about duties. Making use of existing paid time, it reduces or even eliminates the need to organize or pay staff members to go online or to face-to-face training sites.
The content can also be used to educate customers on specials or aspects of the venue.
The HDMI stick is purchased one-off by the venue, and the device needs occasional wireless access to load fresh content, which Pav says will be continuously updated. When loaded it can be used anywhere, without wireless access.
Content is courtesy of a monthly subscription of around $200, representing less than seven dollars per day. HDMI sticks retail for around $350.
Pav describes the solution as "using daily TV broadcasting to improve the operational performance of staff, educate customers and help increase sales".
Content can include: practical skills, product knowledge and selling skills, compliance updates, protocols, quizzes, staff profiles, event notifications.
*December, 2016: An FWO audit of Chemist Warehouse found almost two-thirds of its workforce were required to do training for which they were not paid, and ordered back-pay totaling over $3.5m.