Townsville icon Molly Malones has been bought by north Queensland group Zeller Investments.
Built 1901 as the Tattersalls Hotel, the heritage-listed two-storey brick corner pub was reinvented as the Irish-themed Molly Malones back in 1999. It offers a craft beer lounge, beer garden, function space, commercial kitchen and bistro, and a nightclub, but no gaming.
Since 2003, RDP Resorts has held the title, operating it under management.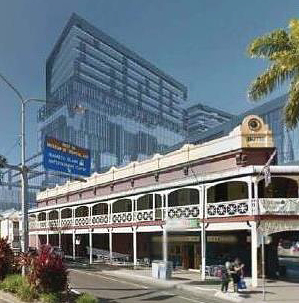 The 1,472sqm site includes unoccupied land with development potential, which is particularly significant in light of the massive 14-Storey The Hive mixed-use project being built behind it by Brisbane developers the Gleeson family.
RDP put the pub to market last year, looking to a sale price reflecting a sub-12 per cent yield.
David Zeller's Zeller Investments, which has history in country pubs in the region, such as the Burdekin and Townsville Hotels, has secured it for $1.55 million, coming in at around a 13 per cent return. 
Zeller told the Townsville Bulletin they will renovate in time, but plan to build on the "solid foundations" of the previous owners, and focus on music appeal, including reinstating bands on Saturday nights. 
"The name and the Irish theme are all going to stay, but we'll be going back to good food and good drink, and working on the pub's late-night entertainment."
The recent sale was managed by Colliers International's James Pascoe and Angelo Castorina, who suggest it was snapped up before the campaign had really started.
"We listed it, got in touch with some prospective buyers, and it ­interested them straight away," Castorina said.
"It didn't even really get to market. It was a strong result."