The US Navy gravy train has just rolled out of another Australian city after further boosting of relations and the hospitality sector.
A flotilla of American naval vessels have been docking in Australian ports ahead of the biennial Talisman Sabre (2015) joint exercise between the U.S. Pacific Command and Australian Defence Force this month.
Brisbane saw the arrival of the USS George Washington, with 5,500 crew members spending four days and hard-earned pay in the Queensland capital.
Western Australia saw two contingents, with the USS Ashland and its crew of 700 visiting Bunbury, about 170 south of Perth, and the 4,000-strong USS Bonhomme Richard, USS Green Bay and USS Preble calling Perth home for five days.
The visiting sailors and marines have taken part in an assortment of community service projects, as well as exploring the sights and hospitality of local businesses.
Australian Hotels Association WA CEO Bradley Woods welcomed the visitors, whom he said become "advocates of the world-class hospitality" on offer in Western Australia.
"Visits by US Navy vessels inject the hard-earned spending money of thousands of navy personnel into Western Australian accommodation properties, hotels, hospitality businesses and the retail sector," said Woods.
"Personnel want to unwind, relax and enjoy themselves after months at sea; these visits provide an enormous opportunity for them to experience a taste of Western Australia and potentially be the destination of choice for holidays in the future".
The injection of American dollars was welcomed in every port, as the well-behaved visitors enthusiastically patronised hotels, restaurants and shops.
"We were packed every night for the whole time the ship was in the harbor," Bunbury hotel owner Bill Main reported to the ABC.
"There was not one ounce of trouble out of any of them. We had to send a few of them on their way, keep in mind they'd been out at sea for ages, but the guys we did send off, there was never any trouble. I'd welcome them back in a heartbeat."
AHA WA deputy CEO, Paul Brockschlager, reports mission accomplished for the stop-over.
"WA hoteliers and operators have reported a successful US Navy visit and look forward to seeing more US sailors in Western Australia soon.
"US Navy visits provide massive economic injections to WA hospitality and tourism; the Government must ensure we remain high on the go-to list for shore leave.
"There is no question these sailors will share their WA hospitality experiences with friends and family when they return to the United States, which will lead to future tourism for WA."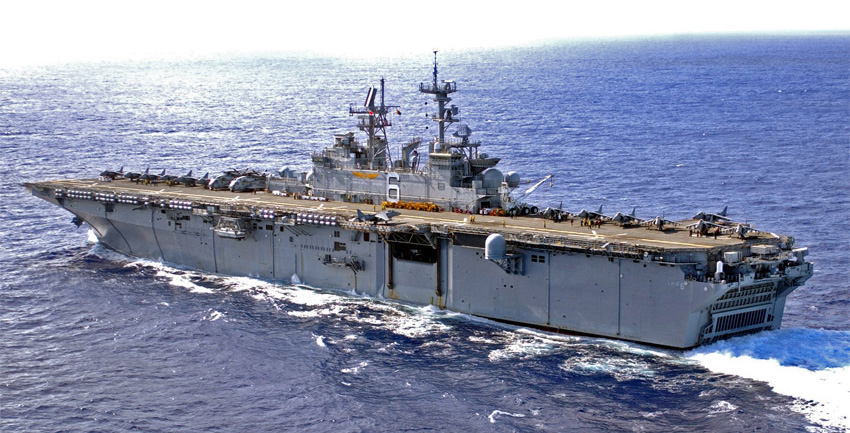 The USS George Washington is approximately 88,000 tonnes, as tall as a 24-storey building and 333 metres long. Its flight deck is 18,210 square metres.
It serves up 18,000 meals per day and distils 1.5 million litres of fresh water.
It can travel at up to 56 kilometres per hour.
The USS Bonhomme Richard is a Wasp-class amphibious assault ship, which are the largest of this type. It is the command ship for Expeditionary Strike Group Seven, which also includes USS Green Bay, USS Ashland, USS Preble and embarked 31st Marine Expeditionary Unit.
The strike group is assigned to the US 7th Fleet area of operations, an area spanning 48 million square miles from the International Date Line to the Western Indian Ocean, supporting security and stability in the Indo-Asia-Pacific region.