MPK Hotels has significantly expanded its portfolio with the well-timed acquisitions of both the Royal Hotel in Orange and Federal Hotel in Mudgee.
A quintessentially Australian pub, the striking Royal Hotel stands like an advertisement for Art Deco on Lords Place, just off main drag Summer Street through Orange.
The multi-level structure offers at street level a public bar, bistro bar, sports bar, indoor and outdoor gaming lounge with 25 gaming devices, and beer garden. Adjacent is a stand-alone drive-through bottleshop, and to the rear about twenty on-site car spaces and connection to the Orange Central Square Shopping Centre parking.
Up one level is a function room with bar, nine accommodation rooms, an office, and both a two-bedroom and three-bedroom flat. The third level comprises another fifteen accommodation rooms.
Orange LGA is around 250 kilometres north-west of Sydney, and home to circa 78,000 people.
Around two hours' drive north is the town of Mudgee, with 12,000 residents. For the past few years Kelly's MPK Hotels has operated the Federal, until recently negotiating with the long-term owner to purchase the freehold.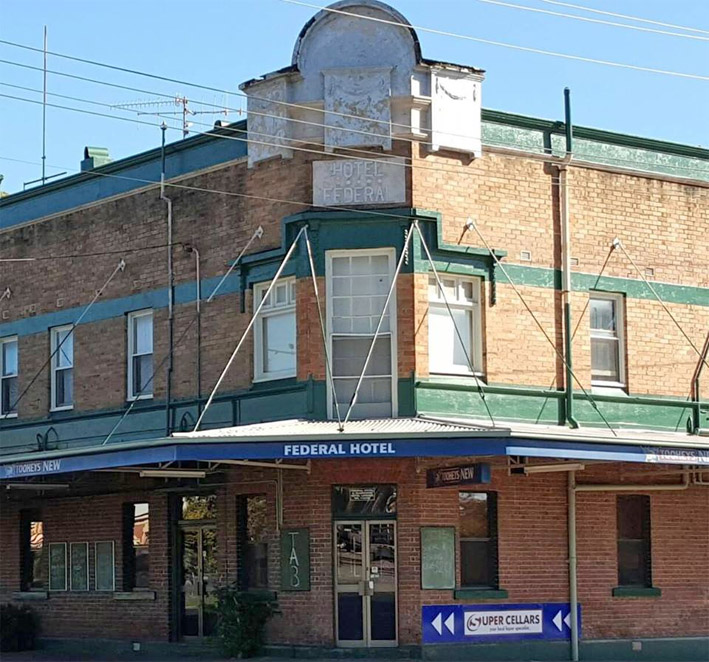 "It happened to settle just the day before the Royal at Orange," reports Kelly. "We did the deal privately to buy it off him."
Purchase of the $10 million Royal from the Irvin Hotel Group was courtesy of another off-market deal, through Manenti Quinlan's Leonard Bongiovanni, bringing the group's tally to eight venues.
The new purchases have allowed MPK to relinquish its previous sideline in management, as the build-up to year end occupies their time and energies.
A revamp of the Royal's accommodation is firmly on the cards, once Kelly and business partner Nick McKechnie have settled in and gotten grounded.
"We'll get a bit organised now, and see what happens," says Kelly. "We've got enough on to keep us busy until Christmas."
Orange is a prime example of one of the state's evolving precincts, bringing strong demographic fundamentals and resultant population growth.
"The sale is reflective of the strength of Orange as a progressive regional evo-city that is undergoing a resurgence," notes Bongiovanni.
"We currently have an enormous demand with buyers actively seeking quality hotels in strong regional areas."