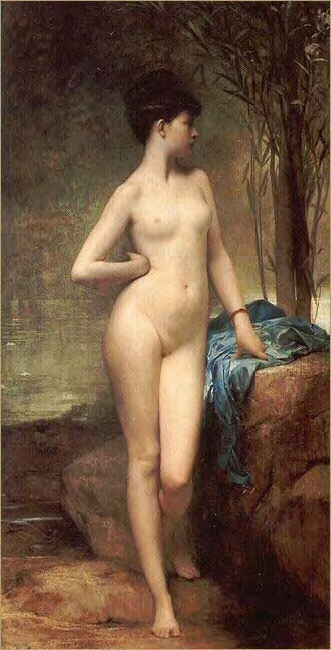 Young & Jacksons Hotel and 'Chloe' are celebrating 140 years as cornerstones of Melbourne hospitality, and are being honoured in theatre under world-renowned director Wayne Harrison.
The institutional CBD watering hole is perhaps Victoria's most iconic hotel, and shares its notoriety with a French masterpiece that has broken hearts since it and the hotel were created in 1875.
Jules Joseph Lefebvre immortalised a young Parisian model named Marie in the celebrated and controversial nude portrait, known as Chloe. An art collector, Henry Figsby Young purchased the portrait in 1909, and it has hung in Young & Jacksons ever since.
For many young men passing through Melbourne on their way to World Wars I and II, Chloe was the only naked woman they ever saw. She captured the hearts of many young men and the jealousy of some women.
Wayne Harrison grew up in Melbourne, but is recognised world-wide for his directing, with his CV including the Melbourne Commonwealth Games closing ceremony, Sydney New Years' Eve Celebrations, and his current pursuit, directing Spiegelworld productions in New York and Las Vegas.
Harrison made a commitment to the late Don Reid, who wrote the play Young & Jacksons as a prequel for the successful play and film Codgers.
The play is based around the life decisions forced upon three sailors and a mysterious women in the closing days of WWII. It will be performed at fortyfivedownstairs until March 22.