The crazy tale of husband and wife hoteliers badgered out of business has ended with "new blood" courtesy of a helping hand from karma and some NRL players.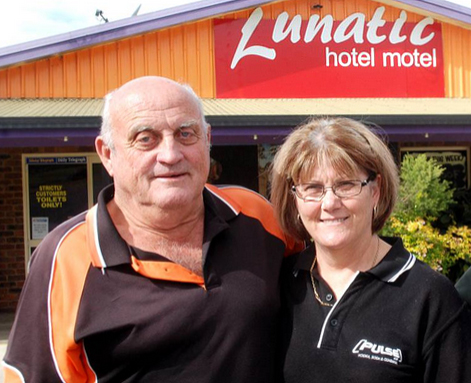 After more than a decade owning and operating Drake's Lunatic Hotel, Desley and Bob Kane had suffered seven years of systematic harassment by unidentified enemies. Persistent rumours, abuse and petty vandalism accompanied 'tip-offs' to OLGR and other nuisances.
"We've simply had enough," Desley told PubTIC in June of last year.
After several years on the market, Desley said they were fed up and ready to close the pub until they could find a buyer.
"I have already begun winding down the business and we will close by the end of July if no-one buys the pub."
The pub has been the driving force behind some major fundraising and community support programs, including generating over $120,000 for the Westpac Life Saver Rescue Helicopter Service and participation in the Hogs for the Homeless charity ride.
Regular Hogs rider and former NRL hero Brad Fittler had been to the Lunatic as part of the ride, and suggested to mate Paul Mares – former Parramatta legend – to buy it.
Negotiations took place through John Parsons Hotel's John Maxwell, and Mares agreed to purchase the Lunatic and lease it to up-and-coming hotelier Amanda Hartley.
"It's been fantastic … the locals have really welcomed me, and business is booming," Hartely told PubTIC.
"There's a bit of a buzz around that the change of ownership has happened, and some 'fresh blood' has come to the place.
"But they say I'm too young!"
The hotel is the first business for the 27-year-old, who has previously run pubs in Queensland, and took the keys to the Lunatic last Friday.
"We had a big party here on Saturday night, with the 'all-grrrl' rock and blues band Rawnchi bringing in about 150 people. It was a big night.
"I was looking at buying the pub myself, but I'm happy with the lease. I'm glad the Kanes stuck in there and didn't close."