Ahead of the State election on 17 March, Nick Xenophon's all-singing, all-dancing SA Best party has released its new watered-down approach to poker machine reform with a politicised policy set to please nobody.
After two decades and three parties, Xenophon's foundational "no pokies" platform has finally bowed to pressure for moderation, after the prohibition approach continues to fail under close scrutiny.
An older and possibly wiser Xenophon (bar the recent SA Best campaign musical, below) has offered that his party's two-pronged policy will "dramatically reduce harm" deriving from problem gambling, predominantly be reducing numbers by half and forcing further reduced bet and jackpot limits on machines.
"We're trying to be realistic and practical and sensible," said Xenophon at a press conference on Monday.
While it is counterproductive to criticise politicians for updating their point of view in light of evidence and practicality, the revised SA Best policy is tantamount to a bet each way.
It also references assumptions about the gambling industry recently dismissed by Justice Mortimer in the Supreme Court case against Aristocrat and Crown Casino, for which the Gaming Technologies Association (GTA) has asked for a retraction.
"Our industry has been subjected to stringent legal scrutiny and has passed with flying colours," noted GTA CEO Ross Ferrar. "However, opponents of our industry continue to rely on the very same claims that were rejected by the Federal Court.
"I would urge Mr Xenophon to respect the findings of the Federal Court and amend his policy and withdraw his comments."
In closer contact with the hotels set to be affected by SA Best if it manages to attain a balance of power position and push this agenda, AHA|SA GM Ian Horne went further, to say the plan to neuter gaming machines in South Australian venues amounted to a "political response that completely ignores the genuine needs of problem gamblers".
At the beginning of 2017, SA venues were forced to implement an expensive program to limit bets on poker machines to five dollars, at a cost to the industry of more than $35 million. Stressing the subsequent "total lack of research" done since on the efficacy of the measure, Horne believes operators should not foot the bill for another experiment.
"This plan will decimate hotels across South Australia, wiping out many of the 26,000 jobs it directly creates. Let's actually focus on facts and those who can benefit from support services to address problem gaming.
"If their policy ever came to fruition, it would deliver a massive windfall for International Casinos and the faceless corporations who operate legal and illegal online, internet and tablet-based gambling."
Clubs SA CEO Mike Penfold furthered that the State's clubs, many of which would be greatly affected by the plan to scale back EGMs in larger venues, says almost half are in "severe financial distress" and cannot afford more unproven stabs at rule changes in the name of the 0.6 per cent of the population considered at high risk of problem gambling.
"It's an extremely serious threat and, importantly, there's no proof the changes will help problem gamblers at all."
Like a ghost from the past, SA Best are calling for $1 maximum bets, and to reduce the volatility of machines by limiting jackpots to $500.
The plan will scale back machines in venues with more than ten by ten per cent annually, to a figure of 8,100 in the State, down from the current 12,100. Venues with fewer than ten will be subject to a buy-back scheme.
In the name of reducing access, there is also a call to reduce operating hours from 18 hours per day to 16, and to remove ATM machines from gaming rooms.
However, highlighting these half-hearted attempts at reducing access, even Monash University's Dr Charles Livingstone, an avid anti-pokies commentator, concedes only "substantial cuts in pokie numbers" will effect any meaningful change.
Furthering the commentary, the Alliance for Gambling Reform's Tim Costello undermined the prohibition movement's credibility by trotting out the fallacy* that Australia has "20 per cent of all the world's pokies" and likened gambling here to the US obsession with guns.
The arguments proffered for a wide-spread reduction in access to gambling for the general population – in the pursuit of protecting addicts from themselves – almost invariably fail to mention the smartphone elephant in the gaming room, getting bigger by the minute.
Australians bought 9.2 million smartphones in 2017 (up 11 per cent YOY) and internet usage on smartphones surpassed desktop computers for the first time.
To its credit, the other prong of Xenophon's policy seeks to address what it describes as the "exponential increase in online gambling", although appearing something of an afterthought with "And burgeoning online gambling will be targeted too" at the top of the party's policy document.
But notions of enhancing the powers of the Authorised Betting Operations Act and threatening to "prosecute and geo-block" the onslaught of sophisticated websites becoming available is essentially regulatory whack-a-mole and a far cry from the realities facing venues.
South Australia's Greens party are standing by demands for a complete ban on poker machines within five years – in line with the Labor and Greens policies for the upcoming Tasmanian election, taking place 3 March.
The subsequent two weeks prior to SA's election may see further political wrangling on the topic, prompted by the fallout from the Apple Isle's choices, for or against EGMs in pubs.
*The number of legal gaming machines installed worldwide in 2014 was estimated at 7,723,066. At the same time, Australia was believed to have 199,829 machines, equating to 2.59 per cent of the world total.
EGM numbers: Top 10 countries and percentage of world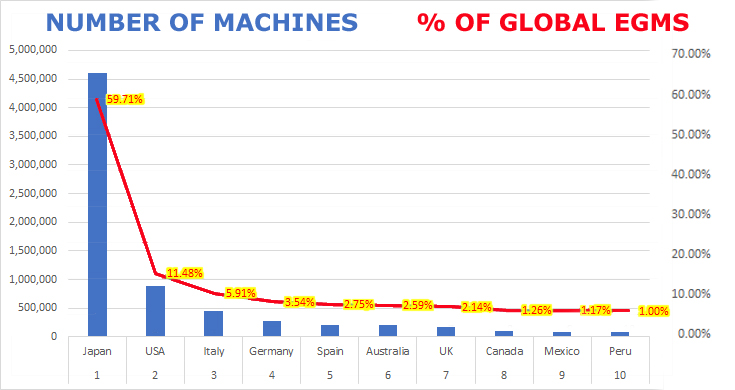 Japan           4,611,714
USA              886,386
Italy              456,367
Germany    273,530
Spain            212,153
Australia     199,829
UK                 165,448
Canada        97,195
Mexico        90,000
Peru             77,059