The mayor of Blacktown joined Arthur Laundy and distinguished guests to mark a construction milestone for the Marsden Park pub-brewery and a step forward for pub-government collaboration.
Earlier this year Laundy Hotels celebrated the official start of construction at the Marsden Hotel & Brewhouse, within the expansive Sydney Business Park (SBP), in Marsden Park, around 53 kilometres west of the Sydney CBD, in Blacktown LGA.
The project will see a brand new large-format Hotel on 5,900sqm, with family dining, public bars and lounges, kids' playground areas, outdoor sports and games, and a state-of-the-art brewery able to produce around 25,000HL.
The commencement ceremony in March followed years of planning with Sydney Business Park and FDC Construction, with works expected to take around 12 months.
It also came soon after a meeting with several dozen publicans called by Blacktown Mayor, Stephen Bali, prompted by an invitation from the AHA to work with industry.
"I said to them 'as mayor of Blacktown, I'd like to meet all the pub owners. The pubs play an important role in our community. They support local sporting organisations, fundraising, and it's important for them to know the challenges that I see from a civic point of view and how we can work together'," explained Bali.
"What better way of getting connected, than through the industry of hotels. If we know what the challenges are and we know what the pubs and clubs are doing, we can actually support them. It makes more sense and a more cohesive city."
"I've been a publican for 56 years, it's the first time a man's ever called us in to have a chat," responded Laundy. "There would have been 30 publicans there, maybe more, thinking 'we're in trouble again'.
"Stephen is very excited about this area and how quickly it's developing. It's not difficult to get excited with him, because he leads with enthusiasm."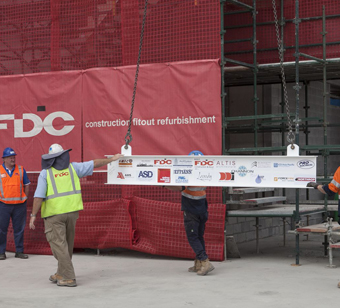 Last Friday works at Marsden Park reached a key point when the ridge beam was due to be hoisted into place, sparking the customary 'topping out' celebration. While FDC project manager Peter Stait told PubTIC construction is a little ahead of schedule, much remains to be done and the projected completion date of March 2019 is still likely.
The pub-brewery is a keystone property in the huge Business Park, which has acres of paddocks destined to become HQs for the multinational businesses signed on to join those that have already moved into the precinct.
Up to 30,000 jobs are slated to be created in SBP, amongst the 200,000 residents beginning to arrive in the area, which represent around 20 per cent of projected growth in western Sydney.
"To have an iconic hotel brewery here is just second to none, and reinforces western Sydney can strive to have the best," furthered Bali. "To be located here is a vision on Arthur's part.
"Arthur's leading the design here, and it's a credit to him; thank you for having the vision and spending the money and getting a quality development in the city of Blacktown."