ASX-listed Lantern Hotel Group has put to market yet another pub asset, as it restructures its portfolio to focus on core business in the Sydney metro.
The Cairns' Courthouse Hotel is an "institution" in the north Queensland regional city, being the official Court building until 1998 and in 2015 becoming the unofficial home of the Premiership-winning North Queensland Cowboys supporters.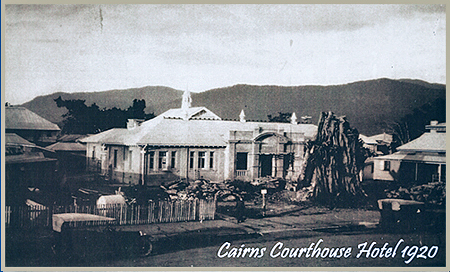 The regal stone building was constructed as part of a scheme to create employment for returning World War I soldiers, and took two and half years to complete, opening its doors at the town's new Courthouse in January, 1922.
Since retiring as the institution of law, it was substantially renovated and transformed into a hotel, boasting multiple bars, a restaurant, function rooms, 35 EGMs, and a large beer garden and giant projection screen for sporting events, such as a Cowboys Grand Final.
Continuing the trend, the asset is being marketed by Lantern (ASX: LTN) by CBRE Hotels, with a national EOI campaign by national director Dan Dragecivich, and Queensland leads Paul Fraser and Glenn Price.
Fraser says for all the activity in south-east Queensland, there have not been a lot of quality assets arising in other areas of the State.
"The hotel is recognised by many across Queensland as being an institution in Cairns, and we are expecting strong interest from private pub groups, corporate groups and private publicans."
The tropical city is considered to be one of the country's top tourism destinations, being the 'gateway to the Great Barrier Reef' and nearest the Daintree Rainforest. Its climate and attractions also make it a strong business centre, with conference and incentive programs taking place year-round.
The Courthouse sits smack in the middle of the Cairns business district, and enjoys a special place in the community.
"It's a special property," adds Dragicevich. "Not only is it aesthetically appealing, but it has had such a strong history in the Cairns community and is likely to attract a wide range of potential buyers – including those outside of the hotel sector looking to purchase a trophy asset."
The freehold going concern is being sold via an Expressions of Interest campaign, closing 13 July, 2016.