Hotel Harry has announced the continuation of its musical collaboration with Sydney's acclaimed Vivid Festival, furthering the event's goal and juxtaposition of art, technology and commerce
The spectacular showcasing of Sydney that is Vivid will return for its 11th year from 24 May to 15 June.
Best known for its brilliant show of lights projected on the Opera House and surrounds at Circular Quay, which come to life at 6pm throughout the Festival, Vivid also presents entertainment, game-changing ideas and seminars to enlighten minds.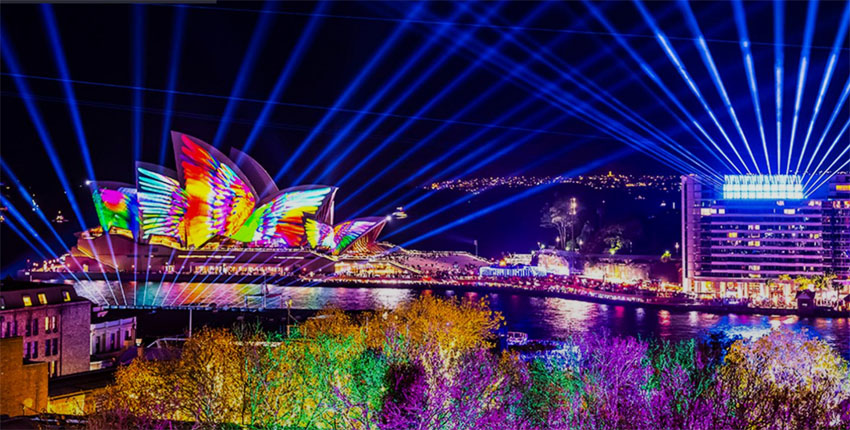 For the third year running comes four weeks of music through the Harry's x Vivid Sydney 2019 program, presenting acclaimed local, interstate and world-renowned DJs and producers over three to four nights each week across the Vivid program.
Thursday Night Live returns by popular demand, playing emerging and established live electronic acts with supporting DJs, such as New Zealand's multi-talented Julien Dyne, Melbourne's Makeda, Roy Batty Jr and Low Flung.
Fridays and Saturdays will see continuation of the best from local and interstate, this year focusing on the sounds of two of Melbourne's hottest parties, Animals Dancing and Daydreams. Set to feature are Melbourne music royalty JNETT, Sydney's Simon Caldwell, Kali b2b and Adi Toohey.
There will also be the classic Harry's long weekend House Party, which dates back to Moodyman in 2015. This year will bring Dan from Cut Copy DJs and Melbourne's Harvey Sutherland to round out 12 events over four weeks.
Despite being a couple of kilometres from the harbour foreshore, the pub has found synergy with the Vivid Festival, suggesting the collaboration gives it the ability to contribute culturally.
"Carly Roberts of Picnic Social fame had come on board as Hotel Harry's musical creator before Vivid 2017 and her experience in the industry led us to approach Vivid to organise a musical programme as part of the festival," explains the pub's general manager and licensee, Andrew Condon.
"Vivid is not purely about the lights, it leans strongly towards digital arts and music.
"It allows us to push the boat out a bit at Harrys, and put on some different acts – including live acts – than we would usually do."