This Sunday's fight between Aussie underdog Jeff Horn and Manny Pacquiao is on track to smash Australian sporting box-office history, and already a win for both Horn and venues.
The fight at Brisbane's Suncorp Stadium is expected to bring in $30 million, from corporate and public tickets sales, what is certain to be a record pay-per-view audience on Foxtel's Main Event, sponsorship and a multi-million-dollar grant from Queensland tourism.
The PPV audience is expected to eclipse even Mundine and Green's existing record of around 200,000 viewers, which has stood since 2006, their first fight, taking place at Allianz Stadium.
News reports Main Event suggesting the Horn – Pacquiao fight is on track to surpass that number.
Traditionally up to 80 per cent of subscriptions are sold on the morning of the event and Foxtel is believed to have hired more than 1000 operators to cope with the demand.
The interest has presented obvious opportunity for venues screening the event, potentially saving patrons the $59.95 PPV charge.
Game On Live Sports' Alex Antoniades says it has inspired what is set to be a new record* in venues screening this kind of Foxtel PPV event – surpassing the record of 776 venues set by the McGregor v Diaz rematch in 2016. The Horn – Pacquiao event currently lists 761 venues and counting.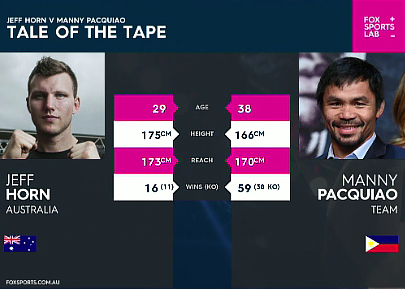 On Sunday 28-year-old Brisbane schoolteacher Jeff Horn will take on 11-time world champion Manny Pacquiao, earning himself in the region of $800,000 including incentives. The Philippine master, boasting 59 wins (38 by KO) is rumoured to be getting $10 million, win, lose or draw.
Horn, who originally took up boxing to protect himself from bullies, boasts only 16 wins (11 by KO) to date, but is seen as very much on the rise.
Pacquiao, on the other hand, has seen himself elected into Philippine parliament and although he claims to have been training as hard as ever, commentators aren't convinced the aging boxer is as committed as he has been.
Win, lose or draw, Horn has already won. A loss to Pacquiao is certainly no shame, and the pair hold a guaranteed re-match clause, meaning he'll get another shot. An against-the-odds win would see him catapulted to a new league in boxing and likely face some big-name American contenders in big-money matches, as well as the Pacquiao rematch.
*Data courtesy Game On Live Sports and Foxtel.