Dynamic pubs fund Harvest Hotels has listed its polished Milestone Hotel in Dubbo as it seeks growth opportunities in other larger format pubs.
Chris Cornforth and Fraser Haughton's group acquired the Milestone Hotel in May 2021 for around $15 million from long-term private owners Joanne and Neville Blair.
Set on a 920sqm corner site in the heart of the Dubbo CBD, the classic heritage-listed Hotel was built in 1881. It offers a welcoming public bar with single bar operation, bistro and commercial kitchen, gaming facilities with 29 machines, six function spaces with various configurations, a popular west-facing veranda area, and a boutique bottleshop stocking an extensive range of fine wines, spirits, and beer.
The gaming operation has the highest count in Dubbo, and ranked 379 in the state by Liquor & Gaming makes it Top50 for hotels classified country.
Across departments the Milestone reports weekly revenues exceeding $90k, with upside suggested in improving the overall food and beverage offering.
"More and more we are seeing people increase the value they put on high-quality food and beverage experiences, and just because they aren't in a major city, doesn't mean that those who live, work, play and visit regional communities should settle for anything less," posed Haughton when they purchased the Milestone.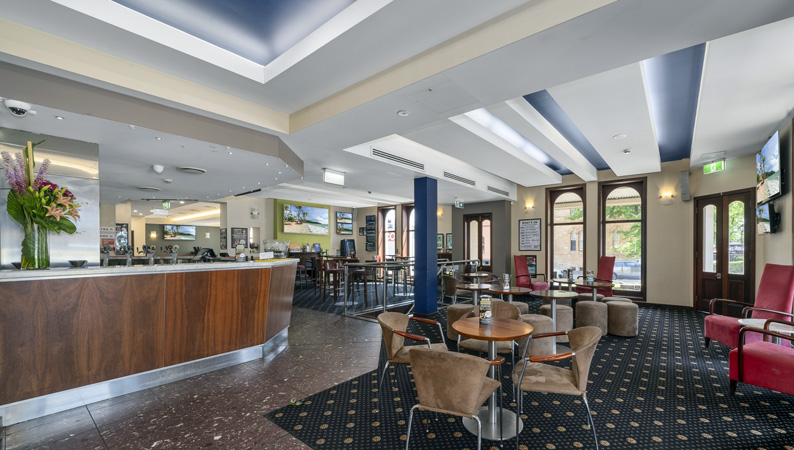 The site is under E2 Commercial zoning, which permits flexible use options and development potential (STCA). Harvest initiated development plans soon after acquisition and a scheme has been created for an enhanced patron experience and overall offering (STCA), with new beer garden and designated patron parking.
But before it undertook substantial capital works, the group implemented various operational changes that have brought the asset to the level expected post-renovation, leaving the fund's capital positioning target on track and allowing it to look to its next phase of strategic investment.
"Harvest continues to build a portfolio of large-format pubs in high growth and resilient towns that have multiple and diverse revenue streams," says Cornforth.
"The Milestone Hotel has been a key asset for Harvest as our business has grown, but it's time for us to pass this historic pub onto its next custodian who will continue to cement the pub's position in the community."
Dubbo is alongside the mighty Macquarie River, smack in the heart of the state's central west, just over five hours from Sydney. NSW's second-largest inland city, the LGA counts population of 55k, while servicing a wider region of more than 200k people.
Harvest has initiated a sale through JLL's Ben McDonald, Kate MacDonald and Greg Jeloudev.
"The 2023 NSW hotel market has been substantially deprived of quality regional assets, particularly those with a GME count of 25+," says Jeloudev.
"We are expecting a hotly contested process with interest to be derived from private hoteliers, groups, syndicates, and high net worth individuals."
The freehold going concern of the Milestone Hotel is being offered via Expressions of Interest, closing Tuesday, 21 November.