Good Time Group has added to its portfolio of vibrant venues with the all-new Fat Freddy's Beach Bar & Diner, under Broadbeach's 5-star Avani apartment tower.
Fat Freddy's quietly opened its doors on the weekend, delivering an evolution of the classic American diner experience designed by Paul Kelly, with "a kick-ass side of sports" and other attractions.
Bursting with colour and kitsch, the 16-seat main bar offers ringside viewing of sports from around the world across nine big screens, or patrons can hide out in one of the luxe leather booths or mingle outside in the extensive alfresco area.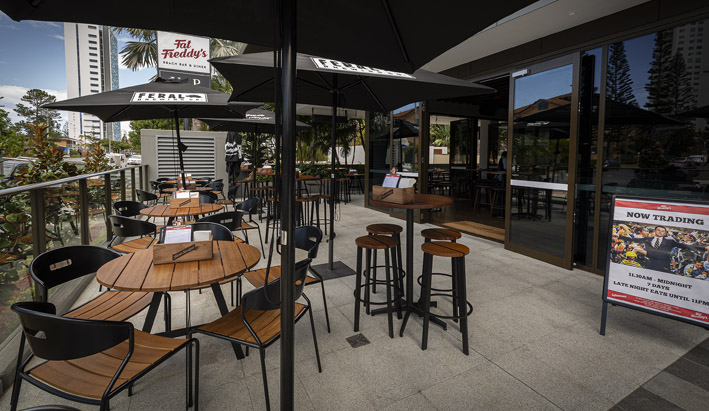 Pitching to celebrity types and those wanting to rub shoulders, seats are to be specially named and dedicated to Australian sporting stars, particularly those living on the Gold Coast, with the first local legend to receive a 'seat at the bar' to be unveiled soon.
There is also the 'Wall of Infamy', celebrating some of the world's most controversial characters, such as Charlie Sheen, Bill Clinton, Britney Spears and Monica Lewinsky.
A punchy playlist of new wave and synth-pop of the 70s, 80s and 90s will set the mood.
Unlike American diners, Fat Freddy's also provides patrons with a luxury gaming lounge, offering 38 new machines, jackpots starting at $25k, and complimentary gourmet snacks, tea and espresso coffee.
Executive chef Braden White has paid tribute to the American diner classics with hearty, cutting-edge dishes including quality burgers and dogs, fried chicken ribs with hot sour sauce, truffle mac & cheese croquets, and Wagyu jerky with smoked cream and BBQ salt.
White says the reinvented recipes ensure the classic US dishes still shine through.
"The popularity of American diner food is at an all-time high, however it's not often executed to the standard that really pays respectful homage to the classics flavours of these all-American dishes and drinks."
In essential complement, these can be washed down with a diverse range of American and Australian beers, extensive American whiskey and bourbon selection, and modern diner cocktails such as the Miami-Vice Splice-Cream or Nitro-Charged Alabama Slammer. There are also 'boozy shakes' such as the Shooter McGavin, with Buffalo Trace bourbon and malted vanilla topped with smoked maple and waffle.
Good Time Group CEO Ben Walsh says the venue's disposition is based in taking advantage of the Gold in its location.
"With the quality of our food and beverage offerings at Fat Freddy's Beach Bar & Diner, we expect to appeal to a wide demographic and definitely become a hang-out for local well-known identities."