The Australasian Gaming Expo juggernaut for 2017 has begun, as research emerges that Aussies are increasingly spending more on experiences such as going out and gambling, than possessions.
A recent study by Roy Morgan has shown the amount Australians spend on experiences, including holidays, dining out and entertainment, continues to grow, while that spent on discretionary items, such as clothing, furnishings or consumer goods, continues to slump.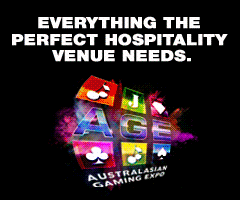 FY16 saw us spend $137 billion on leisure and entertainment, including gambling, and $105 billion on discretionary purchases. The money Australians spend on going out has increased 38 per cent in the last seven years – almost double that of the best-performing commodity, clothing.
This is in line with the growth that has been seen in gaming industries, represented each year in Australia by the AGE (Australasian Gaming Expo), presented by the Gaming Technologies Association (GTA).
Following three years at the temporary facility on Glebe Island, the 2017 AGE will be in the brand new Sydney International Convention Centre (ICC) in Darling Harbour.
Despite that it will occupy 19,000 square metres – 20 per cent more floor space than the 2016 exhibition – the GTA reports a total of 176 exhibitors have already booked 90 per cent of the space. A delegation of 120 exhibitors recently toured the new world class ICC, described as "cavernous".
Visitor registration is already open for the 2017 AGE, seven months ahead of last year. Registration saves visitors time queuing on the day, and the introduction of social media technology both simplifies the registration process with auto-filled fields, and allows registrants to identify other attendees and better plan their visit.
The new ICC incorporates multi-purpose seminar rooms, in which the GTA will be running a series of complimentary sessions for registered visitors about topical issues. These will include 'Women in Gaming' and a 'Global CEO Forum' by outspoken SMH business journalist Michael Pascoe.