Four years after taking over, the Malouf family has executed a striking renovation of a Double Bay cornerstone pub, feeding on its history with locals and their desire for great food.
Featured in the recent St.George Pub Design Tour (see video below), the Royal Oak has transformed its look, patronage and opportunity, whilst retaining its historic links to community and traditional customers.
Speaking with PubTIC, Jamie Malouf described how the family capitalised on strengths and corrected some of the venue's weaknesses.
"The biggest change was the restored tiling outside – it now looks like a pub again," said Malouf.
"The area at the back always had a great reputation for sports, but with some stigma as a bit of a boys' rugby club.
"We wanted to enhance the sporting experience, into something of a sports 'paradise'. There are lots of screens, and the most TAB terminals around, and it's set up to be the place to have a punt.
"In the evening it converts to favouring footy, and we sponsor the local AFL team [UTS Bats] as well as Easts Rugby and the Dunbar Rovers soccer club."
'The Oak' has been nominated for both Best Sports Bar and Best Redeveloped Hotel at the upcoming AHA NSW Awards for Excellence.
Extensions including upstairs, and a garden bar beyond the sports 'experience' have further attracted eastern suburbs residents and a wider market.
"It's really opened up the female demographic," continued Malouf. "We're getting a lot more women.
"This is helped by the new cocktails, and craft beer menu, and the rooftop area is proving massively popular for us.
"Food is also big for us now; we do a lot of share plates, which encourage groups."
The Oak was one of the first four pubs to get CUB's impressive Brewery Fresh system fitted, and the ostentatious tanks and piping fit nicely with the revived front bar and open frontage onto Bay Street, which invites an "al-fresco street vibe".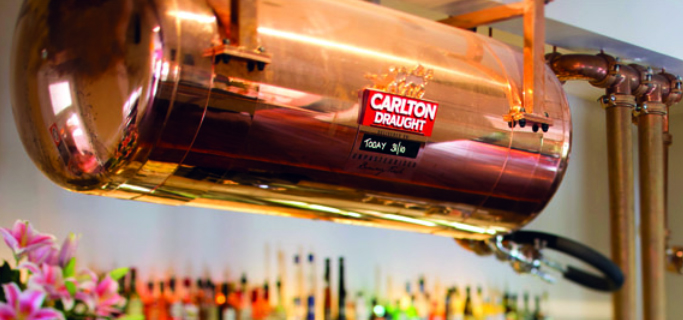 Despite the crafted renovation, Malouf says much of the ongoing and increasing success of the business comes down to a hands-on personal approach.
"I'm here regularly, and act as the face to the business.
"We try to create an environment where people simply feel very comfortable."