The Craft Beer Industry Association's awards night took place last Friday, with the big winners emanating from both east and west.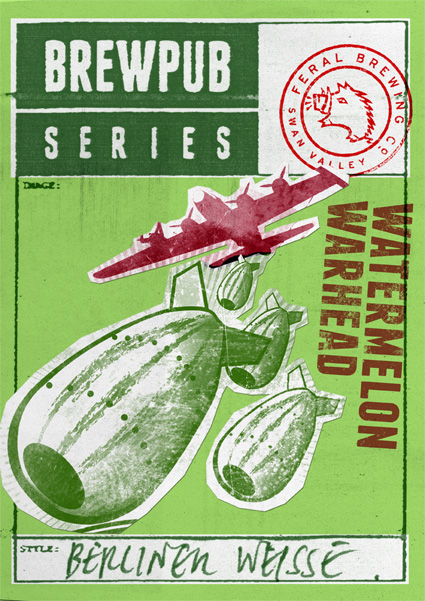 The star of night was Western Australia's rebellious family-run operation, Feral Brewing Co, which offered judges its sour brew Watermelon Warhead. This earned them both Champion Wheat Beer, and the top gong, Champion Craft Beer.
Fremantle hop-heads the Monk Craft Brewery Kitchen also represented, winning Champion Small Brewery.
On the other coast, the Northern Beaches star of last year's awards, Modus Operandi, picked up this year's Champion Medium Brewery, taking the awards for the biggest on-trend styles: Champion Pale Ale and Champion IPA.
A little south, Manly's 4 Pines nabbed Champion Amber Dark Ale for its Keller Door American Amber Ale. South of the border, Australia's first female owned and run brewery, Springwood's 2 Birds, scored Champion Large Brewery.
Chris McNamara, executive officer of the Craft Beer Industry Association (CBIA) says the win by Feral is prophetic for the industry.
"It has taken a while, but we are finally seeing the rise of sour beers in Australia.
"We are really excited to be giving this award to such a unique and flavoursome beer. We hope it inspires more people to get out there and try more locally produced craft beers."
Speaking with PubTIC, Feral's Steve Finney says the result is a sign of progress for the burgeoning operation.
"We have been working on our sour beer program for over six years now, and it's great for the brewing team to receive recognition from their peers on such a unique style.
"The win gives us confidence in the production and investment into these styles of beers.
"Watermelon Warhead is a specialty beer that we have had on tap at our brewhouse in the Swan Valley since first being brewed in 2012, for the Melbourne GABS Festival. The beer is based on an old style known as a Berliner Weisse, which is light in alcohol, spritzy and has a characteristic sour taste.
"The beer takes around 12-15 weeks to brew. One tonne of watermelons are juiced and added to the beer along with a cultivated lactobacillus bacteria strain, and it is stored in used chardonnay barrels.
"Once the beer is fully fermented, the barrels are blended by Brendan and Will to the desired taste and outcome."
CBIA began the Craft Beer Awards last year, with the aim of encouraging and supporting excellence in the industry. It is held on the last Friday of Sydney Craft Beer Week.
Craft Beer Awards Fun Facts:
ENTRIES: Pale Ale – 147; Amber Dark Ale – 43; Porter Stout – 49; Wheat – 19; Specialty – 73; Light Lagers – 53; Dark Lagers – 14; IPA – 49; French and Belgian Styles – 21;
TOTAL ENTRIES: 468
TOTAL EXHIBITORS: 92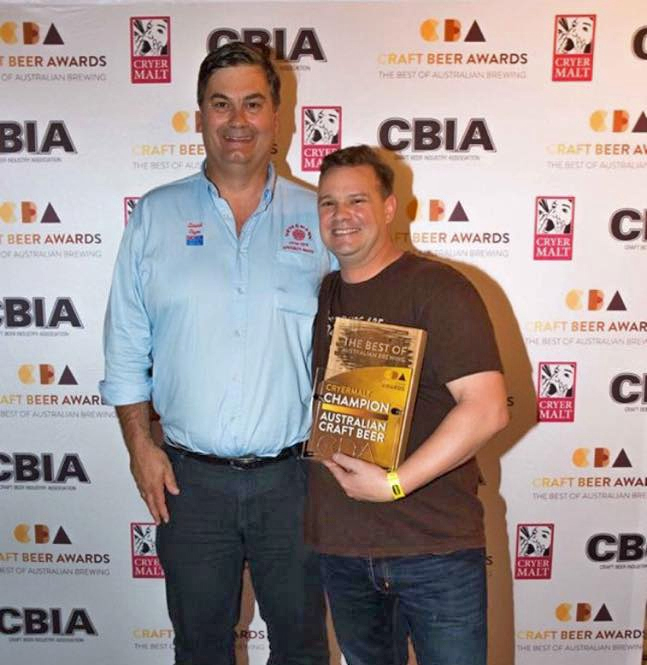 Major winners:
Cryermalt – CHAMPION BEER: Feral Brewing Co – Watermelon Warhead
Kegstar – CHAMPION LARGE BREWERY: Two Birds Brewing (VIC)
Bintani Australia – CHAMPION MEDIUM BREWERY: Modus Operandi (NSW)
CHAMPION SMALL BREWERY: Monk Craft Brewery Kitchen (WA)
Barrett Burston – CHAMPION PALE ALE: Modus Operandi Brewing: Simmy Minion
Chill – CHAMPION AMBER DARK ALE: 4 Pines Brewing Co. – 4 Pines Keller Door American Amber Ale
CHAMPION PORTER STOUT: FogHorn Brewhouse – Sligo Extra Stout
CHAMPION WHEAT: Feral Brewing Co. – Watermelon Warhead
Labelmakers – CHAMPION SPECIALTY BEER: Newstead Brewing Co. – 3 Quarter Time
CHAMPION LIGHT LAGER: Little Creatures Brewing – Pilsner
CHAMPION DARK LAGER: Hunter Beer Co. – Hunter Bock
Time Out – CHAMPION IPA: Modus Operandi Brewing – Zoo Feeder IPA
3M Purification – CHAMPION FRENCH BELGIAN STYLE: Two Birds Brewing – Pink Boots Society Victoria Cherry Saison