Newtown's popular and long-established Coopers Hotel has found itself in the hot media spotlight over a Facebook post that seemed to suggest violence against women in the name of the NRL finals.
Just two days ago (Wednesday 18 July) Gary Wright, general manager of the Coopers, posted on social media an invitation to come to the pub to watch the NRL finals.
"Keep calm and slap a bitch as we approach the finals of this years NRL! Live & Loud every game!"
The post immediately attracted negative attention, and a flood of 1-star reviews and vows never to return, which Wright wrongly tried to play down, altering the original message.
"Keep calm and hug like you can't take a joke as we approach the finals of this years NRL!" he offered instead.
Later that day Wright apologised for the comments, taking responsibility for the faux pas.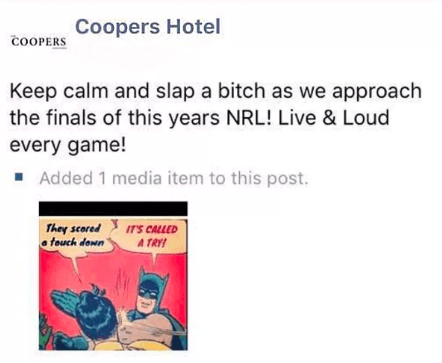 "Hi all, my name is Gary Wright, I am the general manager of the Coopers Hotel and I wholly apologise for the recent post by myself on our social media platform."
But the apology was slammed by many, some saying it was already too little too late.
Much of the backlash seemed to focus on emerging research finding serious spikes in domestic violence and abuse during major football events, with academics suggesting the prevalence of alcohol and perhaps anxiety stemming from gambling as contributors.
A report from the Centre for Alcohol Policy Research (CAPR) at Melbourne's La Trobe University reviewed NSW Bureau of Crime Statistics and Research (BOCSAR) data collected over six years, finding an increase in domestic assaults of around 40 per cent in NSW on State of Origin nights, when compared to other Wednesdays.
There was no corresponding spike on Origin nights in Victoria, but CAPR's Dr Michael Livingstone cites previous research found similar rises in Victoria on the day of the AFL Grand Final.
The 'slap a bitch' expression – while unmistakably inappropriate – comes from American hip hop culture, and doesn't exactly equate to domestic violence. Urban Dictionary describes it as a provoked response when "someone" offends you.
The Coopers has been forced to take its Facebook page offline, due to the litany of negative comments and ratings – despite the offending post being removed and management officially announcing yesterday (24 hours after the original post) that Wright had been dismissed.
"We have taken action in relation to that staff member. Their employment has been immediately terminated and they no longer work at the hotel. Their behaviour does not reflect who we are."
Given the barrage of slightly misdirected ire at the pub, the owners of the Coopers did not respond to PubTIC's request for comment or perspective.