The award-winning Comiskey Group has announced its latest endeavour, beginning with taking ownership of the Samford Valley Hotel.
The family-owned Queensland company boasts a history of strategic operations in hotels and shopping centres spanning more than 30 years, as seen in the much acclaimed Eatons Hill, Sandstone Point and Beachmere Hotels.
While their record shows a preference for Brisbane's north side, Rob Comiskey has long had an eye for Samford, around 26 kilometres north-west of the CBD, and sees balance in it for the portfolio.
"Samford is a great destination for families, offering beautiful countryside drives and boutique local businesses," he says.
"Just as Sandstone Point is a great trip for a sea-change, Samford is a great trip for a tree-change!
"It has always been a place I've taken my family and it's very exciting that we now own a piece of it. We hope to give back to the close-knit community and create an establishment that they can look forward to."
Having taken control, work has already begun on the reimagined pub, to be known simply as the Samford Hotel. There are already family-friendly offerings on weekends, including a free trampoline and inflatable obstacle course, and a pig spit roast, with more facilities to be introduced in coming months.
Visitors will see days filled with "entertainment for all" and live local acoustic artists setting the mood in the evenings.
Next year is slated to see a $5 million upgrade begin at the Samford, bringing "a whole new feel" to the large-format venue, including the addition of an elegant restaurant, new TAB facilities and a gaming room and bar.
In the shorter term, a completely new menu concept will soon be underway, with produce to be sourced from local farms being a key element to the intended 'paddock-to-plate' dining experience.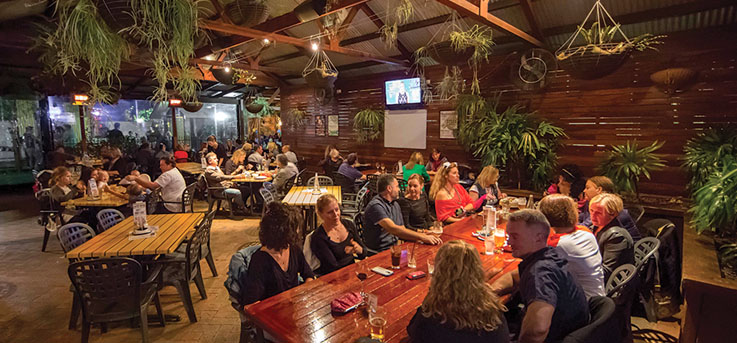 The major works are set to double the staff, with locals given preference in the upcoming bar, kitchen and management roles to be on offer.
The Comiskey Group is fronted by directors Rob, David and Paul. The family not only built its massive pubs at Eatons Hill and Sandstone Point, in 2017 they expanded on the former with an impressive 92-room 4.5-star accommodation development.
"A tourism-provoking much-needed upgrade we hope will boost the local economy whilst maintaining the small country town feel that Samford is famous for," says Comiskey of the coming works.
"We've got plenty more exciting plans for Samford Hotel that I don't believe many will expect."