Category-driving international cider brand Rekorderlig has unveiled summer tactics and on-premise engagement as popularity and 'opportunity' continue to grow.
Leading the charge in flavoured and experimental cider beverages pronounced on-trend at the recent Cider Awards, the 'Beautifully Swedish' brand has delved further into innovative cider-based cocktail and punch recipes.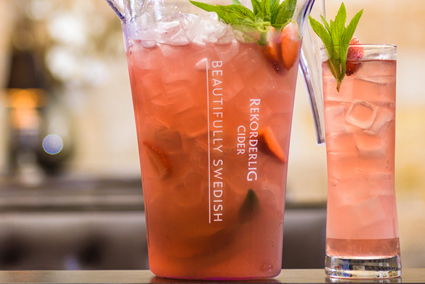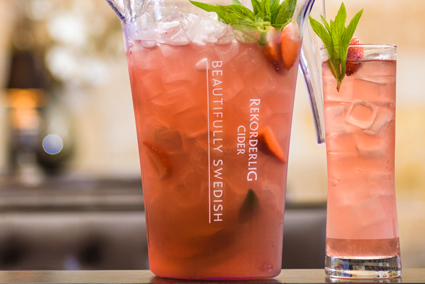 Over the last two years, this has amounted to over 60 different drinks using its large and versatile flavour range, from simple pitcher-serve punches to complex creations using spices such as chilli, and twists like Rekorderlig Pear Cider with whiskey.
Rekorderlig is also working to expand the demographics and occasions of cider drinking – as discussed in the cider feature in this month's PubTIC Magazine. In more mature cider markets such as the UK men account for over half of cider consumption, so it has released its Dry Apple varietal, designed to appeal to male drinkers.
Dry Apple is available in draught, and also the new 300mL bottles Rekorderlig has released, which it says are in recognition of cider's place as a cocktail or mixed drink additive on-premise.
"Flavoured ciders are so versatile, that using them in cocktails is a great opportunity to turn classic short drinks like a Daiquiri, Margarita or Gimlet into tasty, refreshing long drinks, by topping them up with cider in a highball glass over ice," Nicki Langford of global distributor Chilli UK told PubTIC.
Global Brand Ambassador and award-winning bartender Joel Persson has been developing cocktails and innovative serves that showcase the versatility of cider. During his trip to Australia in September, he worked with bartenders on new cocktails for the on-premise, designed to "add value for the licensee and excitement for the consumer".
Using the brand's three best-selling flavours, they created: Rekorderlig Strawberry-Lime Swedish Punch, Wild Berries Rum Bramble & Passionfruit Gimlet.
"Each recipe can be created as a single serve, or as a jug serve to share with friends," continued Langford, who reports the company has specific plans with Australian distributor CCA to work with pubs and Rekorderlig.
"We'll be supporting the on-premise with pitchers, recipes and training in time for summer, [and] Dry Äpple with an awareness and trial campaign with a full on-premise plan, supporting both draught and packaged this spring/summer."