Liquor & Gaming's latest NSW violent venues list has been released, the highly positive results again widening the comparison between it and reality.
The twice-annual list details venues that have accumulated 12 or more violent incidents in the prior 12 months, heralding conditions including no glass and drink restrictions from midnight, cessation of service 30 minutes prior to closing, and maintaining incident registers at all times.
L&G note the dramatic reduction in incidents within venues and establishments making the list, and particular gains against a year ago.
"When comparing this latest list with the first round of the scheme in 2008, there has been a fall of almost 90 per cent – from 1,270 to 146 – in the number of violent incidents at listed venues," said L&G NSW Deputy Secretary Paul Newson.
Newson offers that the State as a whole has seen a decline in alcohol-related domestic assaults over the past five years averaging around seven per cent annually.
"This continuing decline and the removal of nine venues from the latest list are highly encouraging and show we're heading in the right direction."
The trend on incidents within venues has been overwhelming downward, actually averaging 23.5 per cent reduction annually since the scheme began, and noting 36 per cent fewer this report compared to the previous year.
But only venues seeing 12 or more incidents make the list, potentially allowing many to absorb displaced incidents while remaining below the threshold.
Over the same period, the same category (non-domestic violence incidents) state-wide averaged just 3.5 per cent reduction annually, and a slight rise of 1.5 per cent in the past year.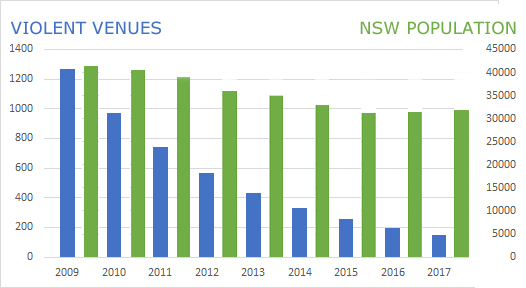 While the 89.5 per cent total reduction may speak to the scheme's efficacy, it is also evidence that it is out of step with society.
The argument is regularly made that allowance should be made in the calculations (and subsequent restrictions) according to number of patrons.
Retaining its place as the poster child at #1 on the violent venues list, Merivale's ivy in fact saw an 11 per cent decrease in incidents – decidedly against the population trend. While L&G note seven fewer venues on this list, there is no information on total incidents at all venues.
Ivy sees more than 2 million patrons through the door each year, meaning its latest violent venues list total makes a person more than 1,000 times safer inside ivy than on the streets of Sydney.
Full List November 2017
Level 1 venues                                                  No. of Incidents
Ivy, Sydney                                                         32
Sydney Junction Hotel, Hamilton               30
Level 2 venues                                                  No. of Incidents
Pontoon Bar, Sydney                                      16
Home Nightclub, Sydney                              15
Scruffy Murphy's, Sydney                            14
Sunken Monkey Hotel, Erina                       14
Coast Hotel, Coffs Harbour                           13
Sea Breeze Hotel, Nelson Bay                      12