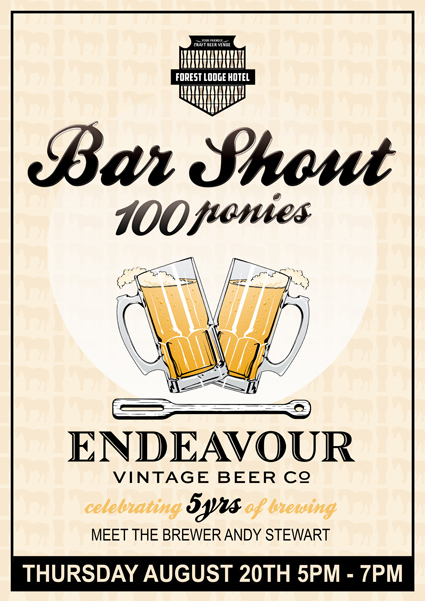 Sydney craft brewer Endeavour is celebrating its fifth birthday at one of inner-Sydney's beer havens, which is fronting up a hundred ponies for the party.
The Forest Lodge, across from Sydney University and in the heart of beer-lovers heaven, will play host to the Endeavour Vintage Beer Co and its expert brewer, Andy Stewart, Thursday 20 August.
The occasion-named 5th Anniversary and Growers' Pale Ale will be on offer (5-7pm), and visitors can chance a beer-based conversation with the man himself over a quick pony.
Endeavour founder Ben Kooyman told PubTIC the celebratory brew has an historic connection to the brewery – as does The Flodge.
"Endeavour Brewery is proud to celebrate its 5th anniversary with the Forest Lodge Hotel," said Kooyman. "[It] has always supported better beer, and we are humbled to be one of its suppliers.
"The 5th Anniversary is a 'pimped up' version of the first beer we ever produced in 2010, meaning more colour, more flavour, more alcohol."
The first Forest Lodge was first granted a hotel licence in the 1840s. The current hotel was built in 1958, after the Victorian era pub burnt to the ground.
The "Flodge" is owned and operated by Matthew Sen and wife Irene, who have built an amazing reputation for food and craft beer and garnered awards including being named 'Sydney's Best Value Pub Food' in the SMH Pub Food Guide 2013.