The list of Queensland's best and brightest hotels has emerged, with Comiskey Group's incredible new mega-venue taking several awards including the top honour.
Open just four months, Sandstone Point Hotel is the follow-up to Robert Comiskey's award-winning Eatons Hill Hotel. Both are located just north of Brisbane's CBD.
Sandstone Point took the prize for: Best New Hotel, a new category for 2015 – Best Outdoor/Non-enclosed Facility, and the major award – Best Overall Hotel.
This was only the second time that a new hotel has taken Best New Hotel and the top award for Best Overall. The first time was when Eatons Hill launched in 2011.
"We're absolutely stoked," Comiskey Group CEO Robert Comiskey told PubTIC.
"We didn't expect anywhere near this much. People have really jumped behind [Sandstone Point] and the success has been overwhelming."
The new award for Best Outdoor area was virtually made for Sandstone Point, with its seven hectares of grass and grounds overlooking the water and jetty.
"The amount of food we are doing there is simply massive," said Comiskey. "We've applied for a permit for a larger jetty to install a fish and chip shop, because our biggest problem is keeping up with the amount of food wanted … we're booked out every week."
No to be outdone, the much-lauded Eatons Hill Hotel took the gong for Best TAB, for the second time, and was inducted into the Hall of Fame for Best Entertainment Venue, having one that award for the past three years running.
Other significant winners included Coles' Spirit Hotels, which took awards for Responsible Service of Gaming and Workplace Health & Safety, and Brisbane's beloved Regatta Hotel, which received honours for Best Restaurant – General Division and Best Marketed Hotel 100+ Employees.
"The QHA congratulates all finalists and winning hotels," said QHA chief executive Justin O'Connor. "Their example sets the standard for others and brings credit to the Queensland hotel industry."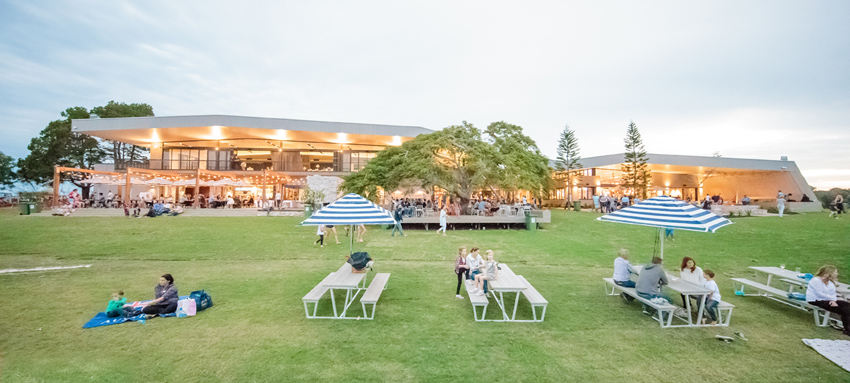 Here is the full list of winners:
EMPLOYEE AWARDS
Best Employee – Administration: Kim Winnacott – The Colmslie Hotel
Best Employee – Guest Services: Pericles Yiannakis – Sofitel Brisbane Central
Best Employee – Food & Beverage: Thomas Angel – Jupiters Hotel & Casino
Best Employee – Kitchen: Madonna Nelson-Bamford – Bluff Hotel
LIQUOR & BAR AWARDS
Best Entertainment Venue: Beach House Hotel Hervey Bay
Best Themed Bar: Rudd's Pub, Nobby
Best Bush Pub: The New Royal Hotel, Rubyvale
Best Outdoor/Non-Enclosed Facility: Sandstone Point Hotel
Best Retail Bottle Facility – On Premise: Isa Hotel, Liquor Warehouse
Best Detached Bottle Shop: Wellington Point Hotel, Birkdale Cellars
Best Bar Presentation & Service: The Charming Squire
Responsible Serving – Alcohol: Coolangatta Hotel
Responsible Service – Gaming: Spirit Hotels
DEVELOPMENT AWARDS
Best New Hotel / Tavern: Sandstone Point Hotel
Best New Accommodation Hotel: The Glen Hotel & Suites
Best Redeveloped Licensed Premises Up To $2 million: Fitzy's Toowoomba, Tapestry
Best Redeveloped Licensed Premises Above $2 million: Beach House Hotel Hervey Bay
Best Redeveloped Accommodation Hotel/Resort: Next Hotel, Brisbane
GAMING AWARDS
Best Keno Facility: Porter's Plainland Hotel
Best PubTAB: Eatons Hill Hotel & Function Centre
Best Gaming Venue: The Pineapple Hotel
ACCOMMODATION AWARDS
Best Budget or Pub Accommodation: Rudd's Pub, Nobby
Best Mid-Range Accommodation: Paradise Resort Gold Coast
Best Superior Accommodation: Capri by Fraser Brisbane
Best Boutique Accommodation: Spicers Tamarind Retreat
Best Deluxe Accommodation: Sofitel Brisbane Central
FUNCTIONS AWARD
Best Functions Operation / Facility: RACV Royal Pines Resort
DINING AWARDS
Best Casual Dining: Grand View Hotel Bowen, Bj Magee's Restaurant
Best Casual Dining: Fitzy's Toowoomba, Tapestry
Best Restaurant – General Division: Regatta Hotel, Boatshed
Best Restaurant – Accommodation Hotel Division: Jupiters Hotel & Casino, Cucina Vivo
Best Prestige Restaurant: Jupiters Hotel & Casino, Kiyomi
ENVIRONMENT & COMMUNITY
Best Environmental Practice: RACV Royal Pines Resort
Best Marketed Hotel 1-99 Employees: Isa Hotel
Best Marketed Hotel 100+ Employees: Regatta Hotel
Best Industry Training Initiative: Sofitel Brisbane Central
Workplace Health & Safety Award: Spirit Hotels
Most Outstanding Community Service & Achievement 1 -99 Employees: Barron Valley Hotel
Most Outstanding Community Service & Achievement 100+ Employees: Treasury Casino & Hotel
SPECIAL INDUSTRY AWARDS
Hall of Fame – Best Entertainment Venue: Eatons Hill Hotel & Function Centre
Hall of Fame – Most Outstanding Community Service & Achievement 1-99 Employees: The Caxton Hotel
Best Overall Hotel: Sandstone Point Hotel
Hotelier of the Year: Helen Rush, Stockman Hotel, Texas