Staff and patrons at ALH's Old Sydney Hotel were surprised to say the least when a car driven by an elderly woman joined them in the bistro.
Last Friday around 1pm, a white Ford Laser driving along Ellana St Maryborough left the road, entering the rear of the Old Sydney Hotel, crashing through outdoor furniture and through the double glass doors of the Bistro entrance, coming to rest pinning patrons up against a table.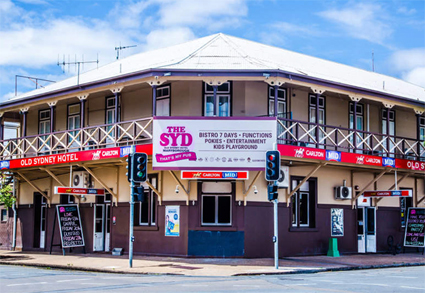 Queensland Police have not disclosed more details about how the accident happened, except to say "We believe an elderly female lost control of the car … It appears she hit the accelerator instead of the brakes."
Ambulance crews arrived and two people were treated at the scene, but there were no serious injuries and no-one required transport to hospital.
The elderly woman driving the car was treated for shock.
Quick work by staff saw the damaged entrance blocked off and the bistro reopened the same day, with patrons now using a side entrance.
A spokesman from Queensland Police Media said no charges had yet been laid.