ALH has rebranded its former Wharf Tavern as the latest James Squire pub instalment, dubbed the Savvy Squire.
Catering to Queensland's growing love of craft beer, reported by IRI data as seeing 14.1 per cent value growth in FY19, Lion's category-crafting brand has partnered with Australian Leisure and Hospitality Group (ALH) in the revitalised Mooloolaba Wharf.
Designed in a style distinct to the Squire, the interiors feature bared original brickwork, complementing the addition of copper, timber and black metal.
The Savvy Squire will be the only place on the Sunshine Coast offering the full range of James Squire beers on tap; staples One Fifty Lashes pale ale, Swindler tropical ale and Jack of Spades porter, limited editions such as The Wreck 'Survivors' ale, and the new Hop Thief 10 American pale ale, due for release in September.
Head Chef Neil Mann takes the reins for a contemporary pub menu around the Squire range, with a dedicated kids' menu for little Squires. Signature dishes hero specific brews, seen in the crispy chicken wings with One Fifty Lashes glaze, and pork chops with Orchard Crush confit apples.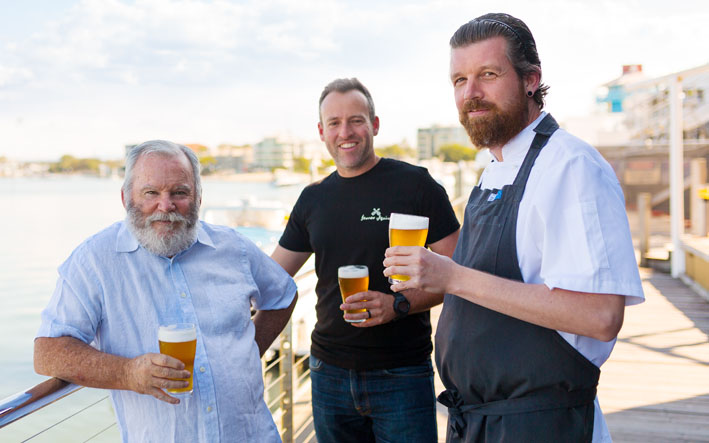 Located on the peninsula formed where the River meets the Pacific, at picturesque Mooloolaba Beach, the venue lends itself to the kind of specialised branding that has made the Squire venues to date a success.
"Mooloolaba Wharf is a hub for locals as well as thousands of visitors each year, who can now enjoy their favourite James Squire brew paired with a delicious meal in a quintessential Queensland setting, overlooking the scenic Mooloolah River," poses Lion's craft brand director Malcolm Eadie.
The Savvy Squire opens tomorrow – Thursday 29 August.