Everyman's publican, Bill Smith, is again riding the publicity wave with an announcement that Abbott's Hotel Waterloo has put hipsters on notice, banning man-buns and handlebar moustaches.
Lurking just south of the CBD and increasingly gentrified Redfern, Waterloo is still largely the kind of working class population that was the bread and butter of every yesteryear pub.
Counterbalancing the Abbott's successful but seasonal Beer-o-Meter promotion run during summer, Bill Smith has warned off wandering hipsters, issuing decree of a dress policy against the likes of fedoras and manicured facial hair, while welcoming singlets, thongs and high-vis.
"We're all so worried about appearances, about making sure we watch our Ps and Qs. Sometimes it's okay to say 'I don't mind a bloke coming in after a day's work with a pair of muddy boots on and drinking a couple of beers'," Smith explained.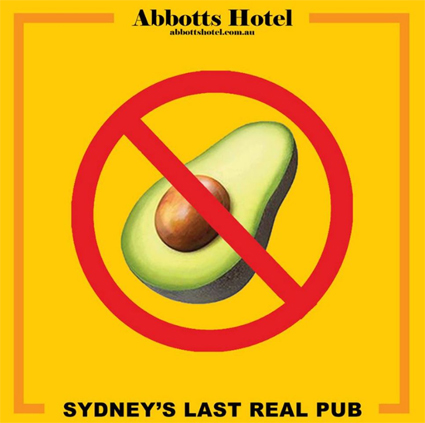 The pub's reverse dress code has again drawn the spotlight of the media cycle, inundating the venue with camera crews and interview requests, bringing slots today on the Today show, 2GB and MMM, with more due tomorrow.
"The people around here love it, the idea they might get their mugs on television. They're rapped."
While the industrial heartlands of Waterloo and Alexandria may gradually be giving way to converted warehouse apartments and goat cheese pizza, starting soon and for the next few years, Smith's Abbott's will be neighbour to a couple of hundred construction workers on a massive site.
The stalwart publican says they are merely catering to the traditional clientele on which pubs have historically been built.
"So let's roll out the mat, you know? That's my business for the next few years. Not everybody can get away with serving $35 plates of food and $12 schmiddies.
"It's just a bit of fun."