By Emma Castle
Alcohol Beverages Advertising Code (ABAC) regulators have upheld a complaint against a Twitter meme created on behalf of Geelong-based Southern Bay Brewery Co.
ABAC is arguing that the meme (pictured) is promoting binge drinking and has argued that six beers is 'clearly in excess of responsible drinking practices', which implies that using alcohol to navigate difficult situations is a socially acceptable practice.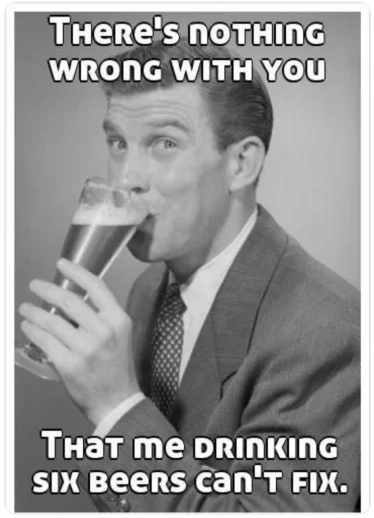 Southern Bay Brewery Co. countered that the image is part of a widely accepted cultural meme that relies on 1950s imagery overlaid with humorous text.
The brewery responded by saying, "It would be fair to believe that a reasonable person is sufficiently worldly to take the tweet as being light-hearted and not seriously advocating that six beers be consumed to overcome a negative perception someone might hold about another person.
"In fact, the humour relies on an assumed shared experience amongst many in the community that references the intoxicating effects of alcohol," said the Southern Brewery Co. statement.
PubTIC would like to know your thoughts. Does this ad encourage binge drinking? Is it saying that six beers can lubricate an otherwise awkward social interaction?
And if it is saying that, is that offensive, untrue or likely to spur on a widespread outbreak of people using alcohol as a social crutch?
Comment below or email editor@pubtic.com.au