An unnamed buyer has secured the blank canvas freehold of Melbourne's promising East Brunswick Hotel at auction for $4.4 million.
The former CUB pub on the corner of Lygon and Albert Streets has seen several incarnations over the years, and recently enjoyed a reputation for live music, respected for its mandate to play up-and-comers.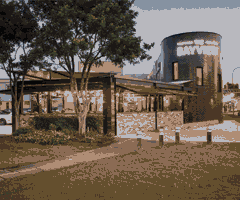 In 2012 part of the Hotel property was sold to developers to become another venue turned city residence, then recent ending of the pub lease prompted a decision by the passive owner to sell it as a vacant title.
The remaining premise consists of 905sqm over three-storeys on a 380sqm lot, under a 1am general hotel licence. It comprises multiple entertainment areas, a former cellar converted to a function room, a cocktail bar and balcony, as well as 12 modern hotel rooms each with ensuite and lounge facilities.
The pub has seen a significant refurbishment, as the suburb of Brunswick East continues steady growth, with over 1,300 dwellings currently under construction or in planning within one kilometre, replacing more formerly commercial sites with apartments and townhouses.
The freehold vacant possession was put to market in August through CBRE's Scott Callow, Will Connolly, Nic Hage and Rorey James, on behalf of venders East Brunswick Property P/L.
Last week it went to auction, attracting multiple bidders before a final bid of $4.4 million, representing nearly $12,000 per square metre for the non-trading asset.
CBRE would not comment on the identity of the buyer, but confirms they plan to open the pub immediately following settlement, chosen for April 2018.
"The property presented as an ideal opportunity for an owner operator or value-add investor with the bulk of the work already in place to trade immediately," reports Connolly.
"In the end, our purchaser has now secured one of the most attractive pubs in the greater Melbourne area, which has the ability to provide multiple income streams from hospitality to boutique accommodation."