Patrick Ryan and family have joined the coveted ranks of the sale-and-leaseback, divesting the title to Sydney CBD landmark the Republic Hotel, and staying on as operators.
Ryan and siblings have owned the property since 1999 and executed a number of pivots with the market, most recently a multi-million-dollar renovation to produce a very on-trend rooftop bar.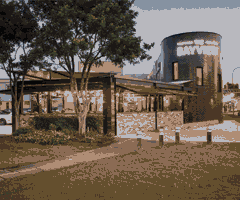 Located opposite the Stock Exchange and spanning three city streets on a 228-metre site, the four-storey Republic has been a licensed venue since 1865. In recent decades it has strived to cater to its largely upmarket clientele, and experienced the changing face of Sydney's hospitality, minutes from the Quay and Opera House, and inside the lockout zone.
Determining a buyer was likely to come from outside the industry, Ryan enlisted Ray White Hotels' Asia-Pacific director Andrew Jolliffe to broker the pub off-market, resulting in a "really sophisticated offshore group" taking the keys, with the long-term operators staying on to run it.
"I'm thrilled with the sale. It was a good time to divest my family's interest, in the current property cycle," Pat Ryan told PubTIC. "The buyers were really good to deal with.
"I went to [Jolliffe] with some strong figures and said 'now's the time to make a move'."
Ryan would not disclose the identity of the buyer, nor the sale price, but stated the price of $35m quoted elsewhere was incorrect.
The transaction sees the Ryans join the likes of ALH and Solotel, divesting bricks and mortar to focus capital on their core business of running hotels, with considerably stronger returns for the right players. These sale-and-leasebacks have benchmarked around six per cent in NSW, on strong leases to blue-chip operators.
The Sydney CBD's already tightly-held freehold market would undoubtedly produce a result at the sharper end of the yield spectrum, particularly for an historic site such as the Republic.
Ray White cites exit yields for clients averaging around eight per cent in the past year, over 20 transactions, and sees room for further compression. The high-by-comparison returns being seen in Australian hotels are not going unnoticed.
"Sydney is enjoying a demonstrable surge in infrastructure investment, and astute investors right throughout our Asia-Pacific database have highlighted this point," reports Jolliffe.
"As a direct consequence, we are actively representing numerous clients in respect of their very valuable freehold property assets, and expect that favourable market conditions will continue to underwrite strategic investment."