The Woollahra Hotel played host to the 2017 tribute to cricketing legend Richie Benaud, assembling around 200 'Ritchies' sporting wig, microphone and the obligatory cream suit.
Fans of one of Australia's most revered icons of the game came to the Woollahra – located just a ball's throw from the Sydney Cricket Ground – to honour the man behind the mike for three decades of Australian cricket enthusiasts.
The great man retired to the great oval in the sky in April, 2015, at the age of 84. Benaud was an all-rounder, bringing leg-spin and aggressive batting to the team, helping Australia win back its status in the 1950s and 60s, before retiring as captain in 1964. He went on to become a legend again, in the Nine cricket commentary team.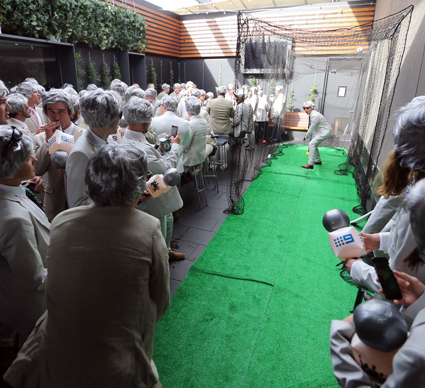 Benaud was a key focus of funny-man Billy Birmingham's highly successful '12th man' series, and embraced his own eccentricities characterised in the succession of comic releases.
In the same vein, The Ritchies donned their quintessential fawn/pale brown/cream or beige sports jacket, arriving at the Woollahra to register and kit up with silver wigs and a Nine Wide World of Sports microphone.
The Hotel converted its popular terrace for the day, installing astro-turf, a cricket net, and commentary box. The Ritchies were served bacon and egg rolls, and ice-cold VB.
The tribute event is run by fanatics Michael Hennessy and Steven Blacker, and is likely to continue for years to come.
"PHMG were thrilled to play host for The Richies this year at The Woollahra Hotel," Public House Management Group MD Mitchell Waugh told PubTIC.
"It's great to see a bunch of Sydneysiders get together to pay tribute to such an Aussie legend. It was a fun-filled day of Astro turf cricket, laughter – and a few dodgy wigs."