The NSW Government has released a litter of liquor regulation tweaks to stave off criticism of its nanny-state policies, as parson Premier Mike Baird's approval ratings reach their lowest ever*.
The "package" of measures released yesterday included Government's long-awaited response to the exalted and ultimately disappointing Callinan Review, in which the Hon Ian Callinan AC QC endorsed the application of restrictions, but noted that employment, live entertainment and vibrancy had been impacted.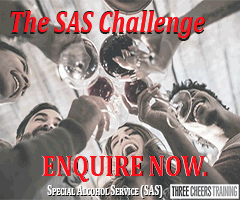 Baird's conservative government has embraced the Review, proclaiming "the Sydney CBD and Kings Cross have become much safer and quieter" since the restrictions stopped people coming to the precincts.
Promising to make an official response to the year-long review process before the end of 2016, yesterday saw Ministerial releases championing a 'thumbs-up' for all Callinan's meagre recommendations, bundled with some other nips and tucks to liquor regulations.
State Government cites statistics that non-domestic assaults in the Sydney CBD and Kings Cross have dropped by 20 per cent and 45 per cent (respectively), which it says "are compelling reasons to keep the lockout laws".
The City of Sydney's report into the Late Night Economy found that patron traffic in Kings Cross and Oxford St precincts was down over 80 per cent at peak times.
But measures other than retaining the lockout laws have been trotted out, as part of Government's strong "commitment to helping make Sydney's nightlife more vibrant and diverse".
"Government needs to provide a safe and vibrant night-time environment for the public and otherwise get out of the way to let people live their lives," says Minister for Justice and Police Troy Grant.
This commitment sees the existing freeze on new licences in Sydney and Kings Cross continued until 1 June, 2018. Except for small bars, which Government seeks to promote. There are only 51 small bar venues in NSW, but licences will now allow up to 100 people, up from sixty.
The Freeze was introduced to "curb the proliferation of venues that may increase the risk of alcohol-related violence and crime" beyond the liquor licence regulator's ongoing duty to do that.
Callinan conceded that the Freeze may actually have impeded some venues from renovating and adapting to change, so a tweak to the current system will allow businesses greater flexibility in this regard.
Callinan also recommended a cautious half-hour nudge to the much-criticised lockout and cease trading times. But in line with his hesitance, Government will only allow this for "carefully defined" venues proving their worth in live entertainment and "a genuine focus on art, live performance and cultural events". A two-year trial of the safety of allowing this will be undertaken.
These trustworthy venues will next year be allowed to let people enter until 2am, and serve them drinks until 3:30am.
It has been determined that Kings Cross will keep its mandatory ID scanners, as they were deemed "effective in keeping out known troublemakers" and help the job of police to identify patrons of interest.
Mooted changes to the Three Strikes Scheme have been further intimated. In recognition of "some undesirable consequences" to the current system of attaching a Strike to a venue's licence, such as new owners being stuck with the penalty, and banks calling for refinancing or sale of the asset, Government will propose to instead apply the Strike to the offending licensee.
The Independent Liquor and Gaming Authority (ILGA) board will determine the strikes, the NSW Civil and Administrative Tribunal will handle the appeal mechanism.
Venue operators will be able to put their case to an independent decision-maker. Strikes apply for three years, and involve escalating penalties for repeat offenders.
Licensees may be subject to "remedial action" and venues can still receive penalties, such as when further Strikes are incurred by either the same licensee or a procession of licensees.
Importantly, licensees will be able to apply to have a Strike lifted after six months if he or she can demonstrate they have complied with remedial action(s) and can effectively manage the risks.
There will also be tweaks to the dreaded Minors Sanctions Scheme, which can close any licensed venue for up to 30 days for serving an underage person, even for a first offence. Convictions or fines by the Court for such an offence also earn the venue a Strike, with no right of appeal.
In similar recognition of the "severe financial penalties for venues and their staff" that can result from a closure order, first offences will now be determined by ILGA and will have a democratic appeal mechanism available through NSW Civil and Administrative Tribunal.
These alterations may have come just too late for Arthur Laundy's Steyne Hotel, which landed fines, then a 7-day closure order, then a conviction on appeal and an automatic Strike with no avenue of appeal – all for a first offence.
The Government's liquor licence fee scheme, which applies a higher licence fee for venues that have incurred certain breaches, will be retained. Callinan found it to be an appropriate measure for encouraging venues to comply.
One bonus for hospitality workers comes in the form of 'staffies', which will now be allowed for up to two hours after cease of trading each night, for "staff and other people providing entertainment or other services".
The changes announced to the lockout, cease trade, bottleshop closure and small bar laws can be done through regulation. These will commence in January.
Changes to the Three strikes and liquor licence freeze regulations will require legislation to be presented to Parliament.
*A Newspoll by The Australian found just 35 per cent of voters satisfied with the NSW Premier's performance – a fall of four per cent since September and serious decline since the figure of 61 per cent a year ago.