High-profile pub 'The Eli' plus land package have come to market as the Apple Isle strides into its tourism boon and its builder owner needs a break.
The large-format Elimatta Hotel sits on the banks of the Mersey River, adjacent to the dock of the two Spirit of Tasmania ferries that come to Devonport, on the north-west coast.
The pub, affectionately known as The Eli, was once one of Tasmania's premier entertainment venues and tourist stops. It has famously had just two owners in the last 43 years: the Miller family until 2011, and currently local builder Damien Oliver, who operates it under management.
Struggling to juggle his thriving construction business and raise a family, Oliver has determined to sell both the pub freehold going concern plus the surrounding land – recently rezoned to facilitate a development extension to the hotel.
The business has seen considerable upgrading in recent years, and enjoys annual revenue over $3.2m, but agents Knight Frank say the upside potential is largely in the opportunity.
"The hotel runs under management, so can easily improve under owner-operators, but the big upside is all the development land around it, which would be ideal for accommodation – only 400 metres from the CBD and overlooking the Mersey River where the ferries come in and berth," Knight Frank's John Blacklow told PubTIC.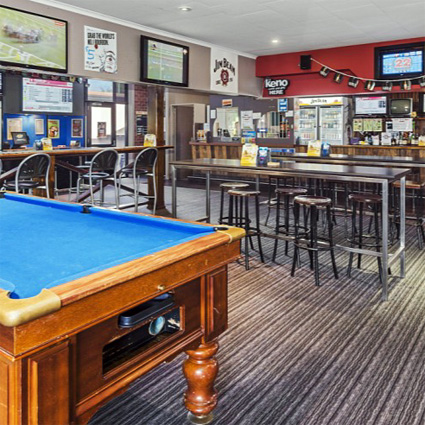 The Eli boasts a public bar, lounge bar, commercial kitchen and dining room seating 260, bottleshop, gaming lounge with 30 EGMs, TOTE, Keno, eight hotel rooms, 13 motel rooms and manager's flat, plus on-site parking. The accommodation enjoys modest occupancy, and would benefit from strategic renovation.
The Hotel plus land package, which was envisioned as further accommodation assets, sees the total land area come to 5,325 m² (approx.) across five titles.
Tasmania is undergoing a tourism boom, with Tourism Tasmania forecasting a 26 per cent increase in visitor numbers to 1.5 million annually, by 2020.
The existing 'single operator wholesaler agreement' that sees all of Tasmania's poker machine licenses controlled by one entity, is up for open tender in 2023. The Eli is a strong gaming performer, and stands to benefit.
The Elimatta Hotel is listed for sale at $7,250,000 – the land parcel for $1,320,000.