Liquor & Gaming NSW has slapped Sydney's Agincourt Hotel with a hefty fine for late trading in the gaming room.
The Agincourt is located on a prominent corner of Broadway, in one of the most densely populated precincts in the country. The pub has a 24-hour licence, but with a prescribed gaming shut-down period of 4am-10am.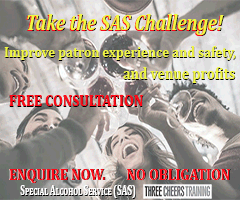 An investigation by gaming inspectors found digital record that machines were played after 4am on nine occasions in November and December 2015, on one occasion as late as 5:01am.
L&G NSW yesterday issued notice that owner-licensee Samuel Reichel appeared in the Downing Centre on Tuesday, where he plead guilty to operating the machines after hours.
The maximum penalty per breach is up to $11,000. A first offence for the 15-year industry veteran, Reichel was fined $1,100 for each of a total of 30 breaches, and convicted of failing to keep proper gaming machine records, for which no fine was given.
The 'shutdown' period is mandated by gaming regulators as part of a prohibition strategy to ward off problem gambling.
"The shutdown requirement is a key safeguard to minimise harm associated with problem gambling by limiting access to gaming machines and ensuring a break in play," said Liquor & Gaming NSW's director of compliance operations, Sean Goodchild.
But the strategy has questionable value when shutdown periods are staggered across venues, and online gaming simulators so accessible. The casino is less than two kilometres away and open 24-hours, and Bar Broadway, directly across the road, has a dictated 3-hour shutdown period.
Speaking with PubTIC, Reichel lamented his lapse in judgement and now really regrets his mistake.
"I'm extremely remorseful, and know I shouldn't have done it," he said.
"We've worked closely with Liquor & Gaming over the last 12 months. We implemented a gaming plan of action to ensure no further breaches occur. All staff are trained in this."
The ruling allows Reichel 28 days to lodge an appeal. He reports that he's still in consultation with legal counsel and hasn't decided yet whether to appeal or not.
Judged on its operation this year, the Agincourt Hotel was recently awarded Best Sports Bar at the AHA NSW 2016 Awards for Excellence.