Victoria is undergoing broad changes to regulations around gaming machines, bringing scaled entitlement pricing and tax rates, and consideration of cashless betting in pubs and clubs.
As part of an overall review ahead of the expiry of the current leases in August 2022, the Victorian Government and VCGLR have announced a new system for entitlement acquisition, and flagged possibility of a TITO system (ticket in, ticket out) and Card-Based Cashless (CBC) gaming in venues.
The new purchasing system, set out by the Justice Department, will allow operators the chance to acquire additional entitlements – up to the number they held at 7 July 2017, subject to individual venue caps and municipal limits.
The new system will charge a variable rate for the entitlements, based on prior earnings by the venue buying them.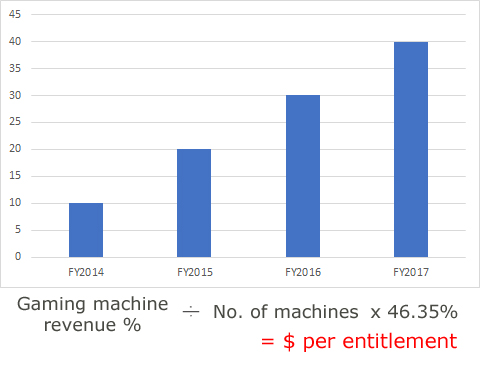 The amount is calculated according to the average earning per machine in financial years 2013-17, the formula rate increasing each of the four years, from ten to forty per cent. This figure is then multiplied by a 'State Multiplier' (46.35 per cent) to arrive at the entitlement price.
The minimum price per entitlement will be $32,714 for hotels, and $5,170 for clubs.
Further to this, the scaled tax rate based on earnings per machine will be increased in the upper brackets, for monthly revenue above $6,668 per EGM.

In a positive for venues, the VCGLR (Victorian Commission for Gambling and Liquor Regulation) has taken steps to introduce TITO and CBC across the State. These systems have operated at Crown Casino for several years.
A campaign for public submissions closed 1 September, and adjudicators are now considering the findings.
The regulator is assessing the introduction of TITO and CBC as part of the broader review of Victorian gaming, and confirms it can make the changes necessary for their introduction under current legislative provisions.
"In response to industry interest in incorporating this functionality into other gaming venues the VCGLR has developed draft standards and draft operational requirements," reports a spokesperson.
"The purpose of these is to specify sufficient requirements and controls to, amongst other things, ensure the integrity and fairness of TITO and CBC transactions and that its operation in clubs and pubs fosters responsible gambling.
"The draft standards also propose that any cashless system must be capable of supporting any current or future transaction limits."
The new purchasing and taxation arrangements will come into effect when the current licenses expire in August 2022.