Universal Hotels has boosted its presence in Darlinghurst, acquiring the multi-level Brighton Hotel in the heart of a rebounding Oxford Street.
The Brighton has been owned by the same family since 1977, and hit the market in August as its 82-year-old owner looked to retirement.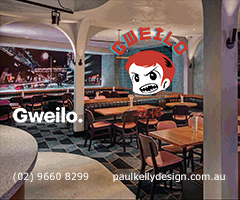 Located on a small 127sqm lot, the four-level brick structure has floor area of 480sqm, including a public bar, performance area for live music, and two levels of residential apartments.
After looking at the Colombian, Universal acquired Riversdale's Kinselas at Taylor Square in May, director Jim Kospetas speaking of plans to focus on food and entertainment, and "activating its presence" in the precinct.
Backing up the investment, the group has now acquired the leasehold interest of the Brighton, just two blocks south, with plans for a sympathetic repositioning in line with what they see as the emerging Oxford Street.
"It's a cool little pub for us. Something new, completely different to anything we've done," says Harris Kospetas.
"We'll be expanding on entertainment, as we're quite good at that, in Brighton Up Bar, upstairs, getting some really good acts in.
"We're looking to incorporate food, more a hipster dive-bar concept, with the live music upstairs and focus on entertainment, and remarket the venue. It's got a bit of character to it, so we're trying to restore its beauty, give it that old-school pub cool vibe."
Kospetas says they strive to give every venue a unique stamp and leverage its history and what it lends itself to. The Brighton has a heritage façade, but the tired 50-year-old interiors are not protected, although select elements, such as the old tinted windows, may remain for character.
The residential floors, which are licensed, will be reclaimed for hotel floorspace following DA hurdles, and Harris says they intend to make the most of the thriving street-facing bottleshop at the Brighton, expanding on the group's off-premise business.
Universal believe Oxford Street is a re-emerging precinct that is shifting in the aftermath of the lockout laws, and finding a new niche amongst patronage. Furthermore, the zoning north of Riley Street, where the Brighton stands, is rife for a change to density and or height limit.
"We took over Kinselas about five weeks ago and we're kind of seeing it there; it's slowing improving week on week. On a Friday or Saturday night the area is definitely changing, getting busier and busier.
"There's a big opportunity there for food and beverage. It's not a nightclub strip anymore, more of an entertainment slash local hub."
Universal was recently nominated for four AHA NSW Awards for Excellence for their 1821 venue.
The Brighton was listed through Knight Frank, the sale price destined to be around $8 million.
Knight Frank's Mike Wheatley and Kate MacDonald would not disclose the final figure, but said there was no shortage of takers.
"The Brighton Hotel brought interest from a range of prospective purchasers keen to commandeer this prime corner position on Sydney's Oxford Street," offered MacDonald.
"We are delighted to see Universal Hotels expand on their Darlinghurst leasehold acquisitions with the addition of the Brighton Hotel, and we are excited to see what transpires in this unique space."