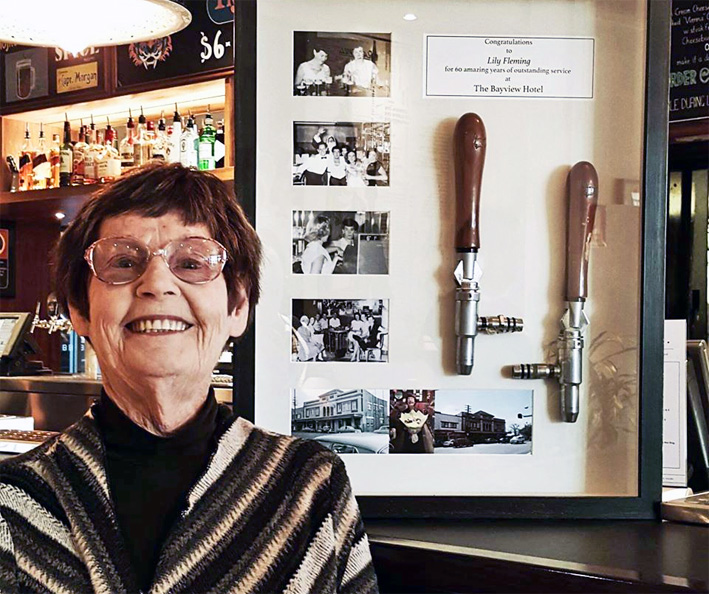 It's a new era at Gladesville, as Australia's longest-serving barperson hands in her towel.
Starting work as a young woman, Lily Fleming was employed at Gladesville's main road landmark, the Bayview Tavern in the mid-1950s.
Since then she has maintained order and broke in new recruits at the popular hotel until reaching the rare milestone of 60 years of service a couple of weeks ago.
The hotel announced the retirement of its longest-serving – and likely Australia's longest-serving – staff member on social media just 2 days ago, but responses have flooded in and the post has already received nearly 400 Likes and over 40 comments.
Many of the comments allude to previous employment, long-time patronage and even first days on the job at the Bayview – all linked by the commonality of "Lil's" presence.
"'Lily Fleming calls last drinks after 60 years," said the Tavern's Facebook page.
"After commencing work at The Bayview in 1955 only in her early 20s, Lil has decided to call it a day and leave us after an amazing 60 years of service!!!
"We will miss her dearly. There will never be another Lil."
Licensee Rod Pittorino told PubTIC he has worked with Lil for the past 27 years and although everyone is sad to see her retire, "see deserves it".
"I will miss your smiling face but will keep fond memories of you regularly walking passed my house to the pub – for work – at a thousand miles an hour in your white sneakers. God Bless You – you perfect Australian." – Gladesville local