Regional NSW pubs have copped a blow to tourism dollars with the collapse of tourism body Inland NSW Regional Tourism Organisation Incorporated.
Inland NSW was formed in 2011 to promote tourism across much of north and western New South Wales, having arisen from a merger between entities from the New England, Riverina, Central and Far West regions.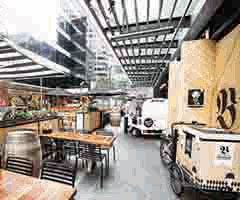 A statement from the organisation cited its inability to secure continued grant funding, and that administrators had been called in.
"Inland NSW, like many other regional tourism organisations, is very reliant on funds derived from grants, [which] account for 82 per cent of Inland's budgeted income.
"Unfortunately, Inland has not been able to secure grants in time to meet its budgeted cash-flow needs."
The sudden closure has left many regional businesses high and dry. Owner of the Old Royal Hotel in Broken Hill, Steve Sliwka, told the ABC the sudden notification raises many questions.
"[I'm] actually quite shocked; I recently committed some funds and … I paid half that instalment about two weeks ago," said Sliwka.
"There was no communication that anything was going bad, or any of that type of stuff.
"I'll be interested to find out whether the knowledge of that was prior to Friday, and they were still pursuing funds."
However, the NSW Government reportedly remains committed to growing tourism in regional areas. A spokesperson for NSW Tourism Minister Stuart Ayres told SmartCompany the 'in limbo' Inland NSW remains a "key part" of that approach.
"The NSW Government remains committed to promoting Inland NSW as a visitor destination and will ensure our tourism agency Destination NSW continues to work with local operators to ensure the ongoing growth of the region.
"Over the coming months, they will work with local operators and stakeholders to support the region through publicity, marketing, media and trade famils and events.
"In the transition phase, Destination NSW will also meet with the appointed administrator and will determine ongoing arrangements to ensure continued promotion of the region."