Not content with international awards for its design, Sand Hill Road has "stepped up" the menu at its Prahran Hotel, bringing a specialty chef and rustic menu to match the 'wow' factor.
Since the group's extensive makeover of the 1940s-built Prahran in 2013, it has received critical acclaim and awards around the world. The defining characteristic is the addition of 17 large, stacked cross-sections of concrete pipe, which act as both a striking façade and internal dining spaces.
But group founding director Andy Mullins believes that regardless of accolades and patronage, a pub's operations are a better measure of success than appearance.
Speaking with PubTIC, Mullins said an introduction to Colombian-born chef Mauricio Navarra, formerly of the Builders Arms' exquisite two-hatted restaurant, Moon under Water, opened their eyes to where the menu could go.
"It was meeting Mauricio, tasting his food and hearing his passion for the dishes he was taught by his family back home in Colombia that made us realise we had to step up the dining experience at Prahran Hotel."
The Prahran was in fact one of Melbourne's first 'gastro' pubs, stemming back 20 years. The new menu options will see it return to its cutting-edge pedigree, warm and rustic, laced with robust South American flavours.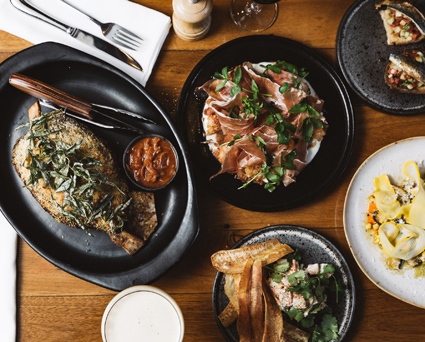 The heroes are share plates such as crispy pork knuckle or slow roasted free-range lamb shoulder, perhaps followed by the three-milk dessert, with poached rhubarb and orange.
The bar menu still offers the classics, including a Reuben Sandwich, Black Angus Cheeseburger and that by which Melbourne venues are judged, the Chicken Parma.
"While the industry has evolved and standards have lifted, the principles remain the same and we recognise that to become the ultimate pub dining experience, our food and service needs to be on par with the world class architecture," explains Mullins.
"We'll always retain the hallmarks of a public bar dining experience too, but Mauricio has opened his world of taste up to us and once you've tasted his passion for cooking, you simply can't un-taste it."
The dining room has seen a refresh to complement the new cuisine, resulting in a French provincial décor, offsetting the contemporary, industrial feel of the rear of the hotel.
Drawing on his heritage, including recipes from his mother adapted for modern Australia, Navarra believes his style is perfect for the pub environment.
"This menu has been designed to reflect exactly what a pub should be all about: sharing experiences, celebrations or commiserations with family and friends."