Popular landmark the Quinninup Tavern went up in flames early Saturday morning, but it is not all over for the little pub that could.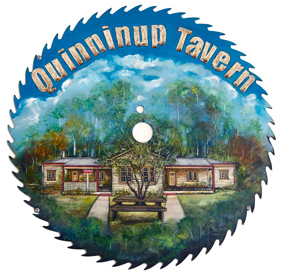 The Quinninup Tavern, known as The Quinny, was built in 1950 in the emerging logging town of Quinninup, around 300 kilometres south of Perth.
Changing times saw the timber mill close in 1982 and the population has dwindled to just a couple of hundred permanent residents, but the pub has remained as a watering hole and meeting place for locals and a welcome stop on Highway 1 going south to Albany.
Dale Atkins bought the pub nine years ago. She woke to a call around 4am Saturday from someone saying the pub was on fire, at first thinking it was a joke.
Atkins arrived shortly before emergency services, but the building was engulfed and dangerous, with gas bottles exploding due to the heat.
The Department of Fire & Emergency Services (DFES) reported the structure was gutted, estimating the damage at around $500,000.
Atkins says nothing can replace The Quinny, but remains upbeat and confirms she was insured.
"We are definitely hoping to rebuild," she told PubTIC.
"I'm not sure how long it will take, but hopefully not too long 😊
"A special thank you to all the firies and emergency services personnel who worked so hard and used their special skills to secure the burn area."
As well as a steady flow of coastal tourists, The Quinny sees 'locals' come from around 100 kilometres, particularly the surrounding towns of Manjimup, Pemberton and Northcliffe.
The cause of the fire has not been determined. The DFES is currently investigating.