A social media "melt-down" by an Ontario publican puts perspective to employment priority differences between Australia and close cultural neighbours.
Last week, Premier of Ontario Kathleen Wynne, announced major changes to pay regulations for the lowest-paid workers in the country that even she crouched as the "largest increase" in the Canadian territory's history.
The change portends a series of staggered rises to the minimum hourly wage, bringing the adult minimum to $15 Canadian (US$11.12) by 2019.
The Canadian dollar is currently on par with Australia ($1 Canadian = 99c Australian), and the current minimum hourly rate is $11.40 (US$8.45).
"Right now, 10 per cent of workers in our province earn the minimum wage of $11.40. Thirty percent earn less than $15 an hour. That's millions of people, many of them supporting a family on a wage that just doesn't go far enough," said Wynne.
Notice of the scheduled 31 per cent increase over the next two years has proven too much for one pub, in London, Ontario. Owner of the Ale House, Alex Petro, has taken to commentary on the wage hike, including on his exterior noticeboard.
The statements, sarcastically criticising himself for being unable to afford to pay his staff the new rate, have drawn some widespread negativity that is not likely to win him any new business. As well as being labelled a "corporate pirate" many have outright boycotted the business.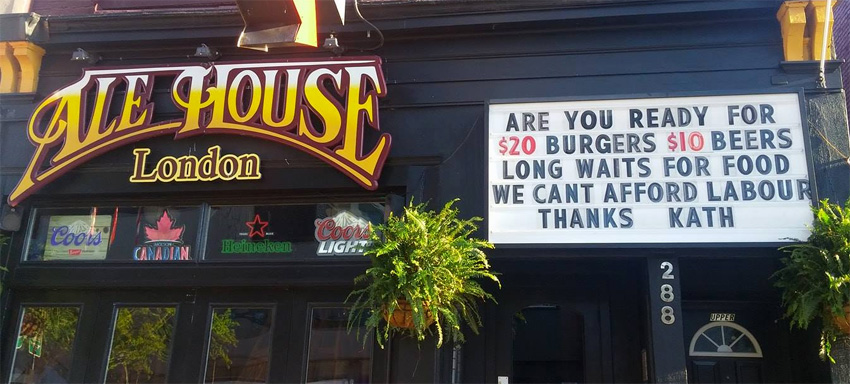 Californian consumer website Rankandfile has even suggested Petro is in the running for "scumbag of the year".
Many North American businesses are ingrained in the 'black economy' of cash and undocumented workers. Furthermore, the culture of tipping facilitates lower fixed pay as it is understood to be supplemented by gratuities for service.
These factors have been the major drivers in lower hourly rates for the US and Canada, particularly in cash-based businesses, even amongst fully legal workers.
The competition that can arise from service-based businesses based in low wages costs puts further downward pressure on pricing, making higher wages harder to provide.
In comparison with Australia, where the minimum adult hourly wage is already $17.70, which can be further subjected to significant loadings, pricing seen in the US and Canada verges on being seen here as a lack of RSA.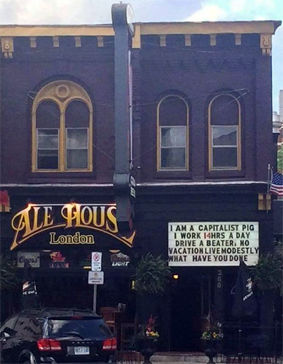 London's Ale House
Mixed drink (made with house 'well' spirits) 2 oz – $5.75
54 oz (1.5L) pitcher Molson – $13
Classic burger – $12