Pub promoter The Happiest Hour is seeing increasing success with its innovative partnerships with venues and services, pushing the buttons of socially active city-siders.
The Happiest Hour (THH) is a smartphone app and website that engages people interested in new experiences and choices through social media and promotions.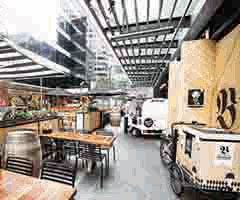 A relative veteran in the technology sector, it has just reached 13 years in business and recently launched in Hong Kong with 300 venues, furthering its existing loyalty base across Australia and New Zealand.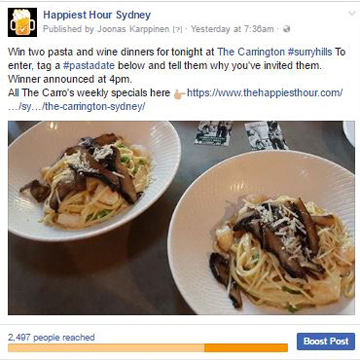 During 2016 THH orchestrated a competition through Facebook offering 100 free meals at pubs. THH would post about a venue's weekly special to its Followers and invite them to invite a friend to the venue for chance to win dinner for them both.
Entries 'tagged' the friend and submitted a reason for inviting that person, and a winner was selected each night.
On average the posts reached nearly 4,000 people each, and venues* offered very positive reports; Solotel's Marnie Fletcher told PubTIC their Albion Hotel licensee "raved" about the success of the promotion and wants to continue.
"Throughout the competition, the team at The Happiest Hour achieved some great reach and engagement for Albion Hotel on social media, all the while bringing in some new locals to our venue each week. We've even seen some of the competition winners return."
The end of the competition found 75 per cent of winners hadn't been to the specific venue before, and 90 per cent said they are likely to go back to the venue in the near future.
For two months across November, December, January, THH has run a joint venture with burgeoning foodservice company Deliveroo, which is a no-fuss delivery contractor for hospitality venues.
The aim was to cross-pollinate the similar demographics of THH and Deliveroo, educating users of both to new opportunities. Deliveroo delivers for many pubs in Sydney and Melbourne, and more recently also in Brisbane, the Gold Coast and Perth**.
As well as integrating the delivery company's booking system into the THH app, The Happiest Hour spruiked Deliveroo venus in social media posts.
The 2-month promotion gave rise to 284,000 impressions for Deliveroo and over 900 THH users taking up the service, with over 2,500 social media engagements (Likes/Comments/Shares) for pubs involved.
"When our users were checking out nearby pub specials, if they would prefer to have pub food delivered directly to their door then they could with just a couple of clicks," explained THH director, Joonas Karppinen.
"Many venues are seeing the Deliveroo channel as a great revenue bolt-on to their existing revenue streams."
THH is currently planning a large promotion with the Good Beer Co, offering chances to win craft beers from the GBC's 50-odd taps at The DOG, in Randwick. Karppinen told PubTIC these experiential concepts strike a chord with their kind of subscriber.
"We have a really social audience that loves getting out to explore new local venues, which appears to be ideal for these competitions.
"We expect to get close to a thousand entries over the 2-3 week promotional period."
**Deliveroo is a UK-based company with operations in 84 countries.
*Sydney venues that recently ran the Facebook competition: The Clock Hotel, The Albion, The Carrington, The Tudor, The Coach and Horses, Aurora Rooftop Hotel, Warren View Hotel, Helm Bar, Keg and Brew, Dove and Olive, The DOG, Lil Darlin, Trinity Bar, Havana Beach Manly