Newcastle hotelier Mark Chegwidden is being challenged by fast food chain Salsas for illegal use of the term 'Taco Tuesday'.
Salsas is a Mexican-style food outlet backed by TV identity Janine Allis with around 50 sites in the eastern states, predominantly Victoria. It's Store Locator shows no locations in Newcastle or Sydney.
The restaurant chain managed to trade mark the colloquial phrase with IP Australia in 2011. It has recently issued a 'cease and desist' letter to Newcastle's Crown & Anchor requesting they stop using the generic term.
"We assume that you are unaware that Salsas is the owner of the registered trade mark TACO TUESDAY in the respect to the provision of Mexican-style food and restaurant services".
"The Mexican-style food offered by Salsas has become extremely well and favourably known among members of the public in Australia, and as a result is associated with Salsas," the letter said. 
"We request that The Crown & Anchor Hotel immediately cease use of the trade mark."
Mark Chegwidden has a long history with Mexican food, once even cooking for the President of Mexico. He has used the Taco Tuesday catch-phrase for at least six years, including at a Mexican restaurant he used to own.
"I thought it was a joke until I Googled it and found it was legit," Chegwidden told PubTIC.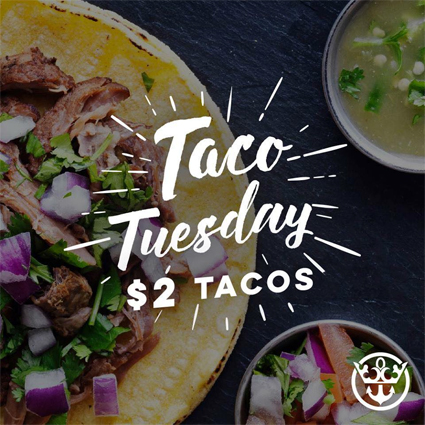 He hasn't yet determined if he will abandon the long-standing promotional title. He has had some advice suggesting the pub has a good case, as they didn't know it was trade marked, and there is little or no chance of patrons getting the two businesses confused or Salsas losing money over use of the expression.
The trade mark will, unless revoked, technically grant Salsas exclusive commercial use of the term until 2021, with the option to pay to renew another ten years. But trade mark law does require that the asset remain in use by the company*.
Salsas has been gracing national chat-shows, and Chegwidden has his suspicions the brand protection is a publicity stunt. He is seeking legal advice, and will make further contact with Salsas shortly.
One law firm has already contacted him to offer its service pro-bono if he decides to fight the motion.
"Maybe we'll get the people involved with what we should call it now. Have some fun with it – we'll probably have a competition or something, who can come up with the best new name for it.
"Either way, we'll roll with the punches and make the most out it."
*A search of "Salsas Taco Tuesday" returns no matching results. The term 'Taco Tuesday' does not appear on Salsas' website homepage or menu.
A search of "Taco Tuesday" returns 4.5 million matching results, including the expression's own Wikipedia page.