Oscars Hotels has launched an amazing new hotel venue in Sydney's south-west set to become a hub of entertainment and business.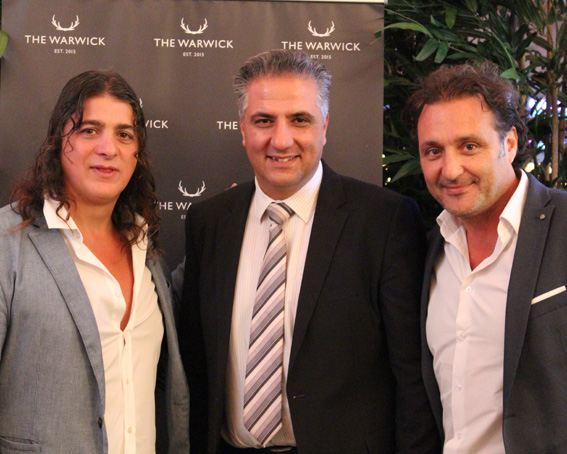 Last night saw the gala opening of The Warwick, attracting guests such as the Honourable Frank Carbone (Mayor of Fairfield), Ned Mannoun (Mayor of Liverpool) and Gus Balloot (Deputy Mayor of Liverpool) as well as Guy Zangari (State Member for Fairfield) and Chris Hayes MP (Member for Fowler).
Following a five-year plan to renovate the former Warwick Tavern, on a massive 30,000 square metre block shared with the fully renovated 178-room Holiday Inn, The Warwick is a cleverly designed hotel space with a veritable checklist of attractions.
Located on the Hume Highway in the gaming-centric precinct of Cabramatta, The Warwick includes a 360-degree bar, beer garden and deck, and a generous gaming room with full smoking solution and a partially retractable roof.
The 300-seat bistro is steered by Oscars Hotels chefs, offering an exclusive hotel menu and tailored canapé packages for functions. Examples were on show last night, with the likes of southern fried chicken skewers with chipotle mayo and carrot relish, created by hatted head chef John Rankin.
Catering to the growing corporate and events markets, the hotel currently houses two event spaces for private gatherings, weddings and the like, with stage two set to reveal soon a 700-seat corporate space for larger events.
Around 200 guests came to The Warwick for last night's launch. In attendance were hotel industry legend Fraser Short and representatives from the AHA and LMG, including new board member John McRedmond.
Oscars general manager Damien Cameron addressed the crowd, paying homage to the highly respected and admirably hands-on Oscars directors Bill and Mario Gravanis, who were reportedly instrumental in every aspect of the new venue.
Cameron also payed tribute to Intercontinental Hotels for partnering with Oscars for the creation of the state-of-the-art venue.