A Toowoomba pub is closing this weekend, with the owners saying they simply could not compete given the hurdles and rising number of licensed venues in the area.
Brothers Simon and Liam Janetzki purchased the lease of the Bellevue Hotel on the corner of their home town Toowoomba's Mort and Bridge Streets in 2014, spotting what they saw as a "void" in the market.
They refurbished it, bringing a new look and new menu, including old classics, and a new name – the Mort Estate Hotel.
Simon has worked extensively in Brisbane, and the pair set about trying to show "you don't need to live in a capital city to access amazing products", tapping over 400 beers and bringing multiple events to the local watering hole, including Oktoberfest, Man Date, First Coat, and their own Brewoomba.
Two years on, despite plenty of patronage most nights, the Mort Estate Hotel will close this Sunday.
Simon Janetzki spoke to PubTIC about the outlook for pubs like theirs in regional Queensland.
"It's a sad situation. The pub is still fairly busy, but the spend isn't there.
"The way the building is, there are a lot of overheads, especially in labour. It's an old design and there's a lot of wasted space. You need multiple people to cover areas."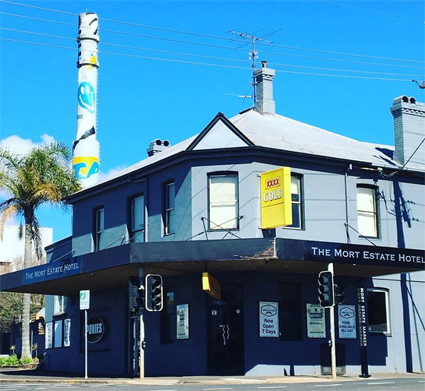 The Janetzkis have attempted to restructure the layout to better suit the times, including a plan to turn the cavernous drive-through bottleshop into a function area. But Queensland regulations on works to the property, which includes some heritage elements, mean any redevelopment would require the entire building brought up to modern building code.
Local entities such as the Chamber of Commerce have lobbied hard to bring large projects to the region, and there is a push to position Toowoomba as a major export hub of fresh produce. Around $8bn in development has started or is in the works, and the current population of 165k is projected to swell to over 200k in the next decade.
Independently, the State liquor regulator appears to have increased the rate of new licence allocation. Janetzki noted before their purchase the town had not had a new licence issued in seven years, but this certainty for the pub has changed.
"In the last two years another seven licensed venues have opened – mostly bars and restaurants," says Simon.
"I'm all for development – Toowoomba does need to grow – but it has to be done in a way that's sustainable."
Despite having three years left on their lease, the brothers have reluctantly handed back the keys to their pub. On 1 November they issued a solemn goodbye on Facebook, inviting friends to join them in "a final party" this weekend.
"We hope that we leave Toowoomba a better place than when we found it, with more variety, quality and a stronger focus on service."
The post on social media has already attracted nearly 150 comments, such as from local devotee Monique Yuginovich.
"This place was something better, something more evolved than other venues in this town. The corner of Mort and Bridge Sts will be in a shadow for many moons to come when you depart."
PubTIC asked the Office of Liquor & Gaming if it has policies around managing the number of new licences to a region, but received an inconclusive response.
"Applications for liquor licences are determined by the Commissioner for Liquor and Gaming in accordance with the provisions of the Liquor Act 1992. The Queensland Police Service and local authorities are also consulted as part of this process."
The Mort Estate Hotel will close its doors this Sunday night.